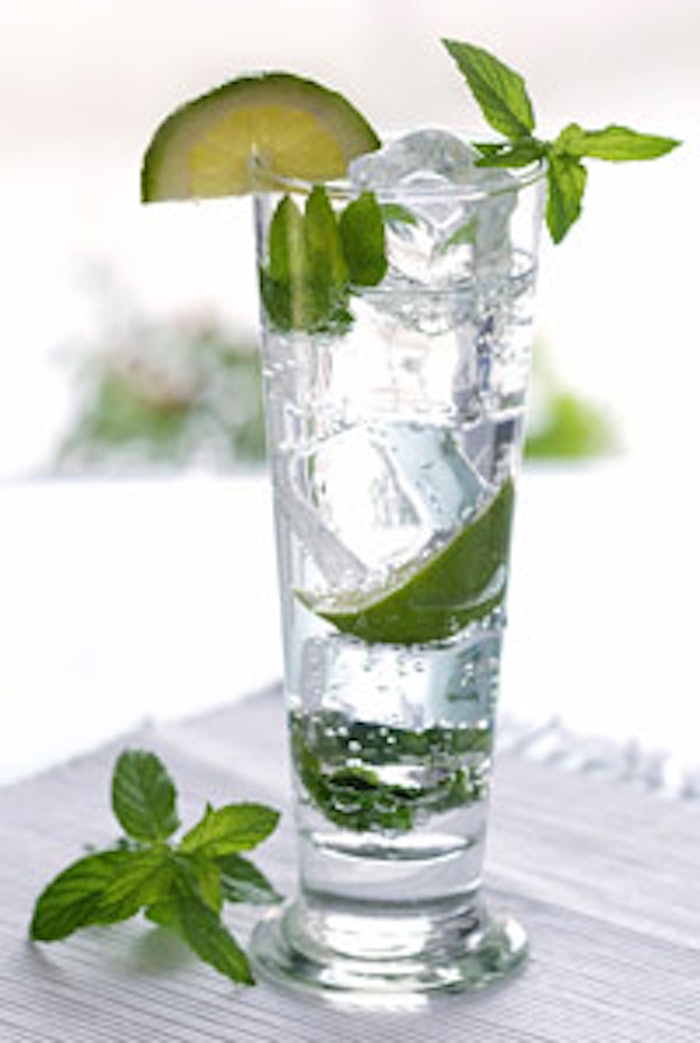 Cuban cuisine has enjoyed precipitous growth on American menus in recent years, to the tune of 274% growth between Q1 2006 and Q1 2009, according to Mintel Menu Insights. Hallmarks of the cuisine are boldly evocative of their Latin roots and include flavorful sauces, char-grilled meats and exotic fruits. But what's an authentic flavor-filled meal without a refreshing homespun cocktail to compliment the experience? Outpacing the instances of Cuban cuisine on the menu is the country's signature cocktail, the mojito, which has grown nearly 350% between Q1 2006 and Q1 2009, according to Menu Insights. In its most authentic form, the Cuban mojito consists of five simple ingredients: soda water, cane sugar, lime, mint and light rum. This flavor-filled cocktail has quickly expanded beyond fine dining and authentic Cuban menus and can now be found in a variety of restaurant segments. While many menus tout the Latin libation in its traditional form, a number of iterations of the cocktail have emerged, presenting adventurous diners with a variety of options for indulging in the flavors of Cuba and beyond.
Fruit Infusions
Exotic fruits continue to drive innovation on the cocktail menu, and the mojito has served as a prime palette from which to create some of the most flavorful beverage concoctions in recent months. According to Menu Insights, in the first quarter of 2009 the top flavored mojito variants on US menus were mango and pomegranate. However, some of the most creative offerings have combined a range of exotic fruits, bringing a more tropical feel to the authentic beverage. Upscale fusion restaurant Roy's features a passion fruit mojito with passion fruit puree blended with Bacardi Limon rum, hand-squeezed lime juice and freshly muddled mint. Fine dining hot spot Spago Las Vegas serves up a pineapple mojito with 10 Cane rum, pineapple puree, mint, fresh lime and club soda.
Mixing It Up
Although much of the flavor innovation in mojitos relies on simply adding luscious fruits to the classic recipe, several food service innovators have experimented with changing up the formulation altogether in order to suit a variety of cuisines and diverse menu offerings. Some of the most notable mojito-inspired offerings combine the flavors of Cuba with ethnic flavors from unexpected regions of the world for unique "fusion" beverage experiences.
For example, On the Border Mexican Grill and Cantina features a signature Mexican mojito. This cocktail includes a fresh mix of premium 1800 Silver Tequila, Cointreau orange liqueur, fresh lime, mint, agave syrup and a splash of soda. From another region of the world, Carrabba's Italian Grill touts an Italian-version of the mojito with its Mohito De Uva. This fusion cocktail combines 10 Cane rum with fresh muddled mint, grapes, lime juice and Prosecco. Finally, upscale Chinese eatery Shanghai 1930 features a ginger mojito with chilled rum, fresh mint, fresh lime juice, a splash of soda and a candied ginger reduction for an Asian-Cuban fusion experience.
Tropical Aisles
Popular food and beverage trends that start in food service often trickle into the retail segment in one form or another. Although still appearing in small numbers, mojito-inspired beverages are beginning to emerge on store shelves. Many of these products allow consumers to conveniently create and experience premium, authentic cocktails at home, further expanding the presence and popularity of the beverages; meanwhile other expressions of the mojito trend in retail are far more surprising.
For consumers looking to serve mojito-inspired cocktails at their next mixer, Bacardi recently introduced its Bacardi Silver Mojito Premium Malt Beverage party pack in the United States. The variety bottle pack includes three mojito flavors: original, pomegranate and mango. For a more convenient way to mix-up mojitos at home, Smirnoff recently launched vodka mojito-flavored liquor in France. Complete with lime and mint flavors, consumers simply add club soda and garnish to create their own vodka-based mojito cocktails.
Beyond Cocktails
As the signature lime and mint mojito flavor combination continues to gain popularity, it has emerged in retail categories outside of cocktails. In Germany, for example, Pepsi recently introduced Pepsi Light Mojito—a calorie-free lime, mint and cola beverage that is available only for a limited time. Beyond food and beverage, the combination of mint and lime has inspired formulations in the personal care sector. For example, this month 10 Cane rum partnered with the Malin+Goetz personal care company to create a limited edition mojito lip balm. Formulated with natural mint and lime extracts, the flavorful lip treatment claims to instantly restore and replenish.
The mojito has rapidly gained popularity on US cocktail menus, exposing more American diners than ever before to traditional Cuban flavors. With this growing popularity has come an influx of innovation, and more purveyors are seeking to put their own spin on the traditional concoction. Although retail applications are just beginning to emerge, we are likely to see new manufacturers, in beverage segments and beyond, incorporate mint and lime essences into more products.
Mintel Global New Products Database (GNPD) tracks new product launches, trends and innovations internationally. For more information, click here or call 1-312-932-0600.