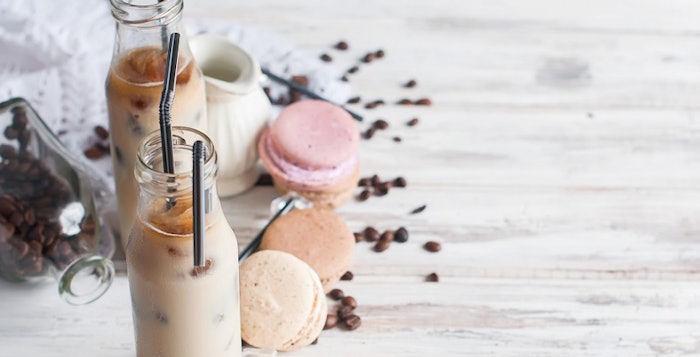 The on-the-go lifestyle has more consumers reaching for ready-to-drink (RTD) coffee as the amount of new coffee shops entering the market cools off. 
The Threat to the Coffee House
New research from Mintel reveals a potential threat to the coffee house market: RTD coffee. In fact, it is the fastest growing segment (20% market share) of the $13.6 billion retail coffee market due to the convenience factor and broad variety of flavors that RTD coffee offers.
Mintel forecasts the RTD coffee segment will experience 67% growth from 2017-22. Meanwhile, the total number of coffee shops in the U.S. is forecast to grow by just 2.17% for 2017, the slowest growth rate seen in the last six years.
Ready-to-drink coffee is one of the fasted growing non-alcoholic beverages in the U.S.
"We expect to see coffee shop sales continue on an upward trajectory over the next five years; however, increased competition from the ready-to-drink coffee category could pose a substantial threat," said Caleb Bryant, senior foodservice analyst at Mintel. "Ready-to-drink coffee is one of the fastest growing non-alcoholic beverages in the U.S.; it is convenient, comes in a variety of flavors and is oftentimes cheaper than specialty coffees at coffee houses. We also see many brands driving innovation in the category such as the emergence of nitro ready-to-drink coffees."
Cold Brew's Heating Up
Cold brew coffee continues to enjoy popularity in the U.S., with total U.S. retail sales of refrigerated cold brew coffee growing 460% from 2015-17 to reach an estimated $38.1 million this year. While cold brew at retail is on the rise, just 7% of coffee drinkers say they have made their own cold brew coffee at home, with 11% agreeing cold brew takes too long to make.
Innovation may help persuade consumers to enjoy cold brew at home as one in eight (12%) are interested in roasts specially made for cold brewing coffee at home and one in 10 (10%) are interested in RTD nitro cold brew. Further, 13% of coffee drinkers over the age of 21 say they would be interested in alcoholic cold brew coffee.
"While foodservice and retail coffee markets may be competitive, they are intertwined as consumers are typically exposed to new coffee products in foodservice, resulting in product development and innovation in the retail space," said Megan Hambleton, beverage analyst at Mintel. "Innovations such as alcoholic cold brew could broaden usage occasions, driving more frequent consumption at night, and ultimately encouraging at-home consumption more often."
Learn about RTD trends and more at P&F's Flavorcon .