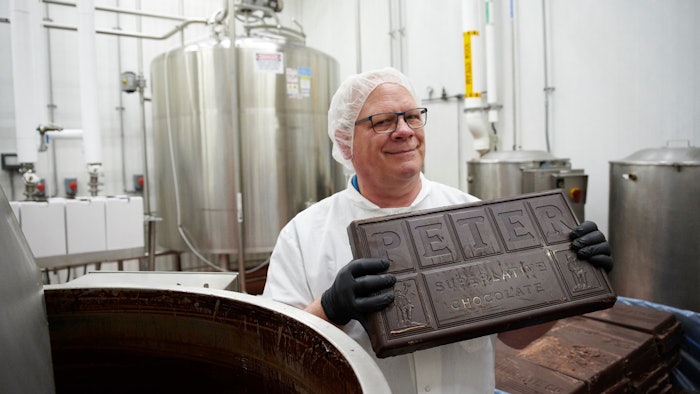 C/O GRAETER'S ICE CREAM
During Flavorcon 2022, the Graeter's team took the stage to discuss flavor development while passing out scoops for attendees to sample while gaining insight on the brand's methods. Graeter's president and CEO, Richard Graeter, alongside VP of Marketing, Tim Philpott, created an overview of the process of testing and planning as well as the marketing of the flavors at retail. 
To dig a little deeper into the crate, Perfumer & Flavorist+ (P&F+) tapped another member of the family-owned scoop shop, chief of quality assistance, Bob Graeter, to talk about his flavor journey as well as the evolution of the industry with a focus in, you guessed it, ice cream.
P&F+: Can you share the beginning of your flavor journey? Any stories you can share with us?
Bob Graeter [BG]: This is a family business, so our history goes back four generations. My dad was involved in the business along with his father and his brothers. I grew up in the business of ice cream, candy, baked goods and have been in this business all my life.
We've always had nice, high-quality products for folks to indulge in. I never personally thought of Graeter's as a flavorist … or a chef-inspired business. There was not a lot of emphases on the "gourmet" aspect of our ice cream in the early days, as we stubbornly stuck to mastering the basics. That has evolved over the last 50 years. At first, we really made traditional products. But then, I started thinking about flavors when I grew up, and how to create a bigger experience from the traditional, combining flavors and building into this gourmet experience. In college I took a lot of chemistry and biochemistry and knew the basics of proteins and sugars and what that meant in relation to good-tasting foods. In the beginning we focused on the logistics and functionality of R&D. When my brother and my cousin and I took over the business, we started focusing more on creating something new, and on getting exposure to true innovators in the category. This was the catalyst for building something truly unique and special within the Graeter's product line, and for finding our unique place in the category, overall.
P&F+: Any specific challenges the ice cream market presents when it comes to innovation with flavors?
BG: The biggest thing for us is that we're a niche player. We're smaller in volume than the national footprint companies. We cannot add flavors to top off our ice cream, as we use very real and specific ingredients. We source these ingredients with quality in mind, and the struggle lies in looking for something truly innovative in the volume that we need.
This is also a category that is cost-optimized for the majority of companies, which just doesn't fit our business. We never sacrifice quality, so it can be hard to find ingredients and materials that allow us to do that when other companies focus on a high-output. We will create quality over quantity every time.
Also, we use a small batch process, which does limit our output. But, by making everything in a batch process, it gives us greater advantages in texture and the quality of the ice cream we produce – although it certainly also presents us with limits to what we can add into our batches. But again, we'll choose quality of quantity every time.
P&F+: Can you touch on how consumer demand has evolved over the years and how it has influenced formulation?
BG: Traditionally, we offered tried and true, Midwestern flavors -- with maybe one inclusion. For example, with our Butter Pecan, we added nuts, and it was a big deal back then. But now, consumers want the complexity of flavors in their ice cream. Consumers also want flavors to replicate other dessert flavors that they already love, whether it's a candy or a pastry or cake. And, they want those options in their ice cream flavors too. Because of this, we're tasked with responding with a product that will sell to our traditional demographic while staying within our quality standards. We also have a long-term relationship with our consumers, many of which run through many generations. These consumers want the "familiar" when it comes to their "comfort food" – and at the same time, they also want the relief they receive from the stress of the world with Graeter's indulgence. Certainly, we'll challenge the status quo with a unique industry flavor every now and then, but by and large we stick with the flavors that our consumers traditionally favor. We've pushed the envelope on traditional flavors, but we don't veer too far from what we know.
P&F+: What is your advice to flavorists coming into the industry?
BG: Get to know the consumer. Get to know the product, how it's used, and the behavior around your product. You then can be most effective in determining what flavors and eating occasions they value.
P&F+:  Is there anything you wish you would've known before entering the flavor industry?
BG: I would have spent more time in food science in my education. I went to a small, liberal arts college, and I would have gravitated more towards the intricacies of food specifically. I wish I had more awareness of what it could be back when I was in school.
P&F+: From your perspective, what does the future of flavor look like?
BG: It can go multiple ways. We have amazing technology coming down the pike. From micro fermentation to crop genetics, the world is wide open to innovation. However, I think when it comes to ice cream, people are still looking for reliability and authentication. People need their favorite brands—those brands, like Graeter's, that hit those comfort and nostalgia buttons. In many food categories, folks will certainly step out of their comfort zones, and therefore, the future is bright for flavor innovation. There will continue to be new doors opening to flavor scientists, especially as we seek to innovate in a world that continues to value more sustainable and environmentally sensitive ways to make the foods we love.