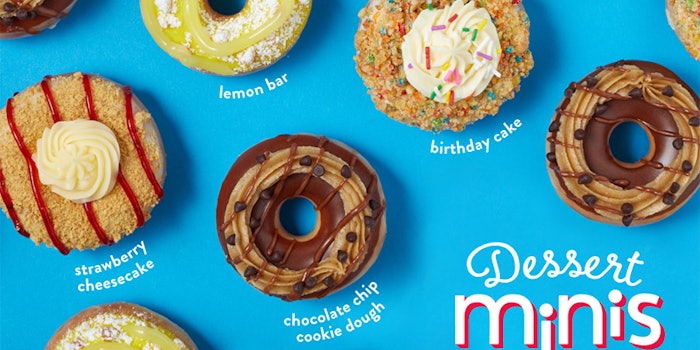 Krispy Kreme Doughnuts has launched a limited-edition line of mini doughnuts inspired by classic desserts, available throughout January, 2021.
Related: Table Mountain Farm Debuts Goats' Milk Caramel Sauces
The line-up includes:
Mini Strawberry Cheesecake Doughnut: a mini doughnut dipped in cream cheese icing and topped with graham cracker crumble, Cheesecake Kreme and a strawberry drizzle.
Mini Birthday Cake Doughnut: A mini doughnut topped with confetti cake crumbles and decorated with a dollop of birthday cake flavored buttercream and sprinkles.  
Mini Lemon Bar Doughnut: A mini doughnut dipped in yellow icing and topped with shortbread crumbles, powdered sugar and a lemon curd swirl. 
Mini Chocolate Chip Cookie Dough Doughnut:  A mini doughnut dipped in chocolate icing and topped with cookie dough filling, chocolate drizzle and mini chocolate chips.