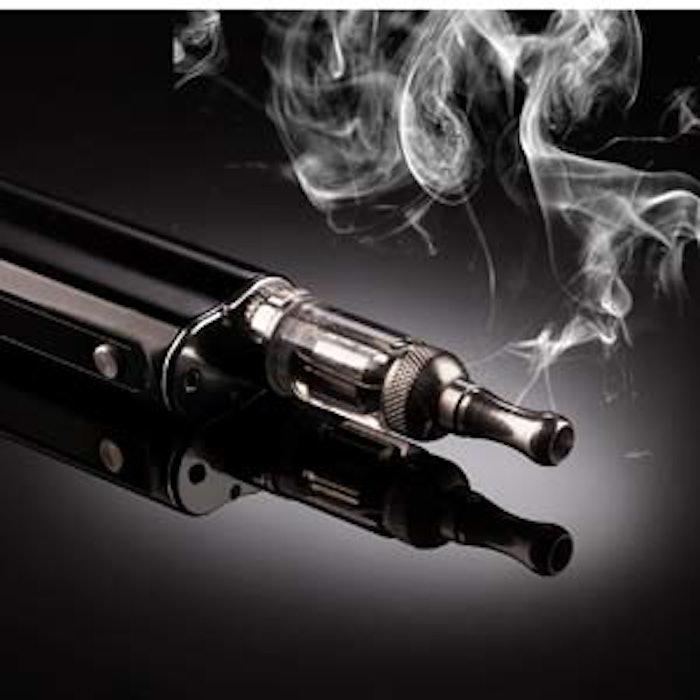 In light of a recent study published online in the journal Environmental Health Perspectives, which examined the "flavors" in e-cigarettes and linked it to associations with respiratory disease, the Flavor & Extract Manufactures Association (FEMA) is noting its existing policy statement on e-cigs and manufacturers are taking note.
E-cigarette manufacturers and marketers should take appropriate action to assure safety, FEMA said in its official statement. "FEMA [generally recognized as safe] GRAS status for the use of flavor ingredients in food does not mean that FEMA GRAS flavor ingredients are safe for use in e-cigarettes," it said. 
The GRAS provision in Section 201(s) of the Federal Food, Drug, and Cosmetic Act (FFDCA) applies only to food. Meaning: 
None of the primary safety assessment programs for flavors, including the GRAS program sponsored by FEMA, evaluate flavor ingredients for use in products other than human food, FEMA said. 
FEMA GRAS status for the use of a flavor ingredient in food does not provide regulatory authority to use a flavor ingredient in e-cigarettes in the U.S. 
"E-cigarette and flavor manufacturers and marketers should not represent or suggest that the flavor ingredients used in e-cigarettes are safe because they have FEMA GRAS status for use in food because such statements are false and misleading," according to FEMA. 
As far as the U.S. Food and Drug Administration (FDA) is concerned, only e-cigarettes that are marketed for therapeutic purposes are currently regulated by the FDA Center for Drug Evaluation and Research (CDER). The FDA has issued a proposed rule that would extend the agency's tobacco authority to cover additional products that meet the legal definition of a tobacco product, such as e-cigarettes, which has yet to become final.
In a recent statement, De Monchy highlighted its policy, applicable to all company subsidiaries, regarding FEMA GRAS and e-cigs.
"FEMA GRAS status is applicable to the use of flavor ingredients in human food application only and does not mean they are safe for use in e-cigarettes," the company said. "No material supplied by De Monchy Aromatics (the group) is warranted as being safe for use in electronic cigarettes or other similar devices."
The company continued its policy stating that in supplying material, De Monchy Aromatics "instructs, and similarly by receiving material the recipient confirms, that it will not be used in connection with the manufacture and distribution of e-cigarettes or any component thereof. "