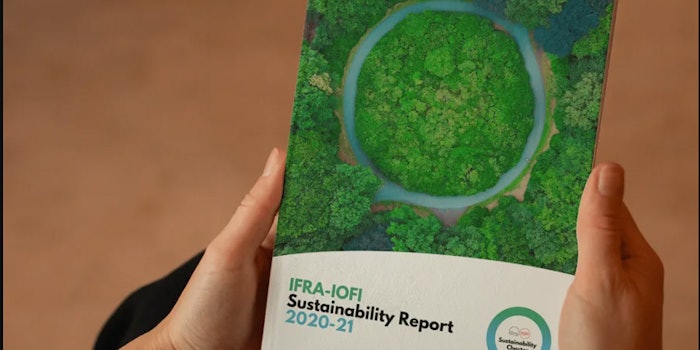 The International Fragrance Association (IFRA) and the International Organization of the Flavor Industry (IOFI) have released The 2020-21 Sustainability Report.
Related: IFRA Names Aurélie Perrichet as Regional Director
The results show that more than two in every three companies who responded to a survey, representing more than 90% of the F&F market, are already addressing the sustainability challenges outlined in the five focus areas.
Responsible sourcing: More than 70% of respondents, and the vast majority of the market, engage in dialogue with farmers and communities. Most of the market has advanced human rights, labor standards and biodiversity action plans.

Environmental footprint: The footprint of F&F industries is relatively small, with three in four respondents, and more than 90% of the market, having a global environmental strategy, implementing eco-design measures and acting to reduce consumption and waste.

Employee well-being: The F&F industries show high standards on employee well-being and offering a rewarding labor environment, including equal opportunities, diversity and inclusion and training. The vast majority of the industries' employees benefit from this high standard.

Product safety: The F&F industries are at the leading edge, and the results show more than 90% of respondents engaging in dialogue with downstream customers on product stewardship.

Transparency and partnerships: More than three in four respondents have a global responsive governance strategy in place, including all the largest companies.
Check out what else is new in the F&F industry with our most recent podcast!
Sven Ballschmiede, IOFI executive director, said, "The results in the report show a high level of maturity in the industries on sustainability across all five focus areas. It has been a long, collective effort to develop the charter, but the results in this report show we are in a good place as the F&F industries. We will continue to support companies and work collectively to deliver the tools and partnerships for progress in upcoming reports."
Martina Bianchini, IFRA president, said, "Sustainability is an imperative for all industries, and not least the F&F industries, which are rooted in nature. With the publication of this sustainability report, we have reached a significant milestone on our sustainability journey—but our work goes on to expand uptake of the charter, raise awareness, and work with customers, partners and stakeholders to design the safe and sustainable products of the future."
Want to know everything going on in flavor & fragrance? Sign up for P&F+'s newsletter. You can also follow along on Instagram and LinkedIn.