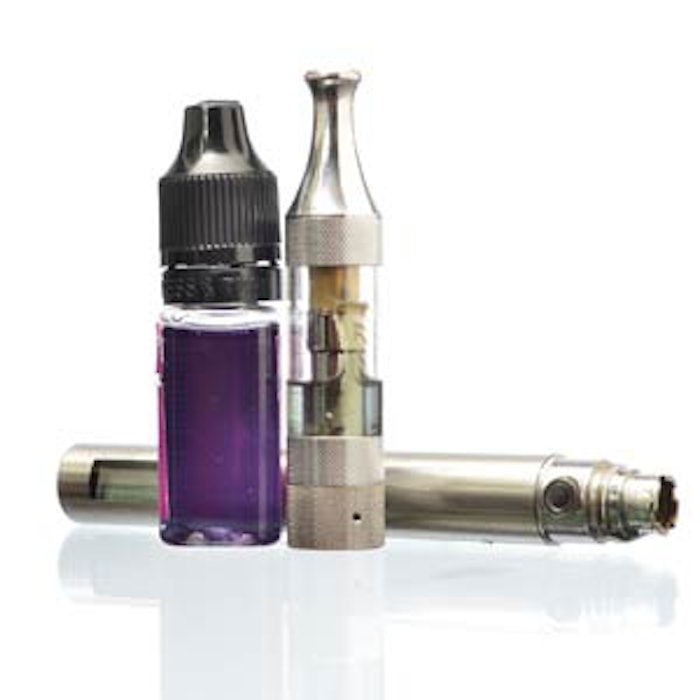 The Flavor and Extract Manufacturers Association (FEMA) has updated its statement on the use of flavors in E-cigarettes as of February 2015.
FEMA noted: "There is no apparent direct regulatory authority in the United States to use flavors in e-cigarettes. In this context, it is important to note that the generally recognized as safe (GRAS) provision in Section 201(s) of the Federal Food, Drug, and Cosmetic Act (FFDCA) applies only to food as defined in Section 201(f) of the Act." 
Also according to FEMA, "None of the primary safety assessment programs for flavors, including the GRAS program sponsored by the Flavor and Extract Manufacturers Association of the United States (FEMA), evaluate flavor ingredients for use in products other than human food. FEMA GRAS status for the uses of a flavor ingredient in food does not provide regulatory authority to use the flavor ingredient in e-cigarettes in the U.S. E-cigarette manufacturers should not represent or suggest that the flavor ingredients used in their products are safe because they have FEMA GRAS status for use in food because such statements are false and misleading."
FEMA added: "The U.S. Food and Drug Administration issued regulatory correspondence on e-cigarettes in 2010. In 2014, FDA published proposed regulations to deem e-cigarettes as tobacco products subject to the regulatory authority of the 2009 Family Smoking Prevention and Tobacco Control Act amendments to the Federal Food, Drug, and Cosmetic Act thereby bringing them under regulation by the Food and Drug Administration (FDA)."