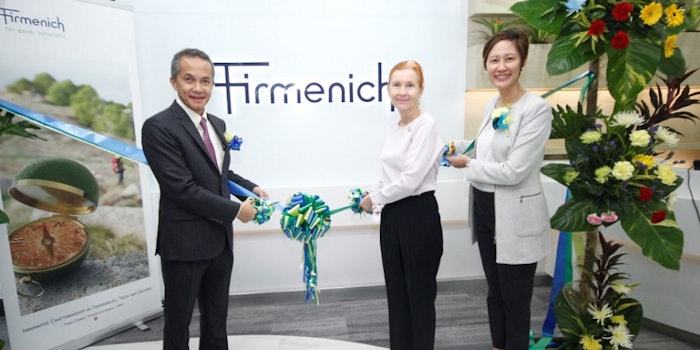 Firmenich has opened its taste creation facility in Bonifacio Global City, in Manila, Philippines.
"Staying at the forefront of creativity and innovation is paramount for us to be the taste and nutrition partner of choice," said Gilbert Ghostine, CEO, Firmenich. "We have been present and continuously investing in the Philippines since 1996, and look forward to continuing to deliver the most innovative and consumer-focused taste solutions to our customers."
Following news of Firmenich opening a culinary discovery center in Thailand, the new facility reaffirms the company's strategy and commitment to Southeast Asia's markets. The taste creation hub will feature a high-tech lab with sensory capabilities to help the company serve the dynamic consumer base of the region. The opening ceremony was attended by Andrea Reichlin, Switzerland's ambassador to the Philippines, as well as local guests, Firmenich customers and senior executives.
"This strategic investment in the Philippines will enable us to work more closely with our customers to co-create great taste experiences that appeal to the diversity of consumers across the country and beyond," said Emmanuel Butstraen, president, Firmenich flavors. "We are dedicated to creating food and beverages that are both healthier and delicious. Our tailor-made solutions, particularly for sugar reduction, will allow our customers in the Philippines to meet the needs of today's health-conscious consumers without ever sacrificing on taste."
Related: Firmenich Wraps Up FY18 with Breakthroughs and Gains
Commenting on the facility's impact on the region, Reichlin said, "Local communities will benefit from Firmenich's expanded presence in the Philippines, as it puts its science to work to address key global challenges such as health and nutrition or climate change. Firmenich's inclusive approach, alongside its Swiss high quality standards, gives the company an edge to create value for its customers, consumers and society today and tomorrow."