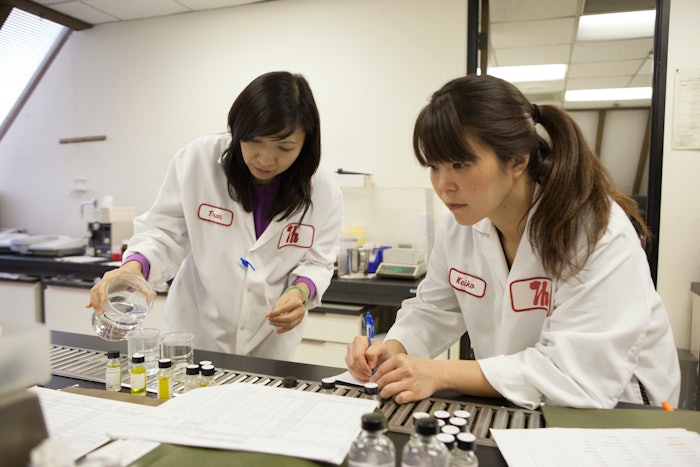 courtesy of T. Hasegawa
T. Hasegawa USA, Inc. was recognized by the British Retail Consortium Global Standards (BRCGS) with a AA-rating certification for food safety.
BRCGS is globally recognized as a leading food safety and quality certification program, providing a comprehensive framework for assessing and ensuring the safety, legality and quality of food products. An AA-rating certification from BRCGS ensures that a manufacturer meets or exceeds the most stringent standards in the industry for hygiene practices, quality control measures, employee training, traceability and ongoing compliance with industry regulations.
Chris Grayson, vice president of operations at T. Hasegawa USA, shared, "T. Hasegawa develops flavors for every category within the food and beverage industry, so achieving the highest possible rating for food safety is paramount for our growing manufacturing presence in the United States. It is a milestone in our company's history for all three of our facilities to achieve BRCGS's AA-rating. Meeting this high standard demonstrates our commitment and proactive approach to maintaining the highest safety and quality standards for our clients."
The BRCGS certification rating was achieved at all three of T. Hasegawa's state-of-the-art California manufacturing facilities, including Cerritos, Rancho Cucamonga and Foothill Ranch locations. The company named several instrumental in achieving the new certification, including Royce Yokote (director of Quality), Tyrone Montero (director of Operations) and Erik Calderon (director of Operations).
"We thank and congratulate our quality and operations team on this major achievement," added Grayson. "We strive to keep our facilities at the forefront of industry best practices, and the AA-rating certification from BRCGS is a mark of distinction that reaffirms our reputation as a trusted and responsible flavor manufacturer."