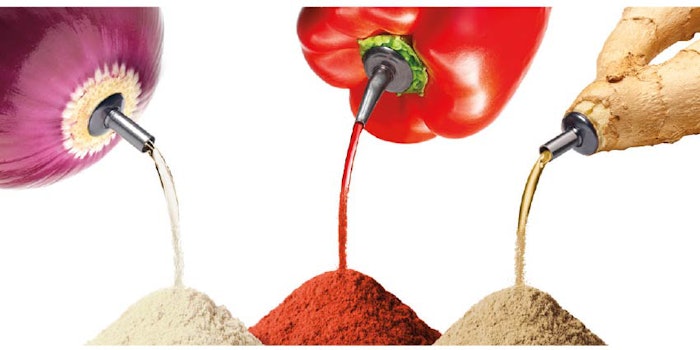 ingredion.us
Ingredion has released its N-Zorbit 2144 plating agent.
The high-capacity carrier allows manufacturers to transform a wide variety of oil- and water-soluble liquids into powder ingredients with economic efficiency. It has a unique, porous structure which increases the surface area exposed to liquids, facilitating absorption.
Its non-gelatinized granular structure allows it to carry high-flavor concentrations that flow freely through processing equipment and mix evenly into food and beverage recipes. Its particle size and low-bulk density can deliver a plating capacity as high as 40%; 100 grams of N-Zorbit 2144 can plate up to 70 grams of liquid.  
Related: Ingredion Announces Leadership Changes for 2018
N-Zorbit 2144 can be used to deliver powdered versions of oil- and water-based flavors and seasonings and can add thick honey, chocolate syrup and other viscous fluids to a range of ingredients that can be made into powders, without spray drying.
"Creating today's on-trend foods and beverages means using a wide assortment of spices, seasonings, flavors and actives," said Donna Brooks, director of global business development, delivery systems at Ingredion. "N-ZORBIT 2144 plating agent allows product developers and manufacturers to economically increase that variety, transforming a multitude of liquids into a powdered form."
"With the launch of N-ZORBIT 2144 plating agent we are able to unlock new application opportunities for manufacturers," added Agnes Lapinska, senior marketing manager in the U.S. and Canada. "Now, manufacturers can plate a wider range of actives at higher oil load levels, more cost-effectively than traditional carriers."