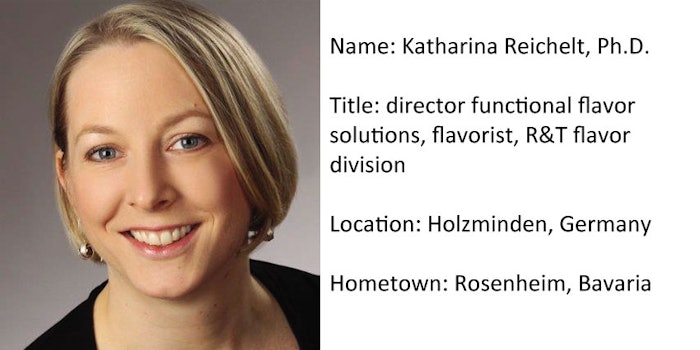 Perfumer & Flavorist+ [P&F+]: What led you to the flavor industry?
Katharina Reichelt [KR]: My first contact with a flavorist was during an internship at a dairy company. Before that, I had never really thought about the food flavoring process and that a whole industry with all these experts even existed. I was immediately fascinated, and back at Technische Universität München (Technical University Munich), I decided to continue my studies in food science, but with a strong focus in flavor science. My first research project was on 2-(sec-butyl)-3-methoxypyrazine and its characteristic of a bell pepper, galbanum-like aroma. This reinforced my decision to continue in this field, and when I was offered the chance to do internships, and later my Ph.D. thesis on phytoscience and taste modulation at Symrise, I never doubted my path for a moment.
P&F+: What applications do you primarily formulate for? Do you have a favorite?
KR: After my flavorist training, I joined the research flavorist team at Symrise, which I'm now leading. This allows me to bring together my scientific background and my flavorist expertise. Like my team members, I'm not so much bound to a few specific applications, but I'm working cross-category and cross-regionally with our colleagues abroad. Certainly, topics like vanilla are more relevant for sweet and dairy, but also for certain applications. Other topics, like sugar reduction or alternative proteins, are getting more and more relevant cross-category.
As a personal favorite, however, I enjoy working with tea and ice cream. Professional ice cream tasting, who wouldn't like that?
P&F+: Where do you find inspiration?
KR: I'm a real foodie and absolutely love to try all kinds of foods, especially when travelling. Also, learning about the way a certain food is produced or to see how it is prepared can be really inspiring, whether it is very simple street food or fine dining. I've always been interested in innovative food and beverages and love how I can now connect science to daily life.
P&F+: Do you have any favorite ingredients to work with? Why?
KR: I love working with natural products, maybe also because I spent many years of my "previous life" in research in the area of phytoscience. But I also like how they have their own story and bring so much complexity to a product, like vanilla extracts, for example. As a flavorist working in research, however, I'm always excited to get new raw materials from my colleagues in synthesis or biobased ingredients, from taste balancing materials to new volatile materials. Tasting them for the first time, finding interesting new effects and supporting their development until it is market-ready, fascinates me each time.
P&F+: How has COVID-19 affected your day-to-day as a perfumer or flavorist?
KR: COVID has affected my day-to-day work significantly. Before, I was travelling a lot, visiting customers, but also working on projects with my colleagues abroad. As for many frequent travelers, COVID-19 has put that on hold. But it was not only me travelling the world that was suddenly limited, but also having colleagues from within Europe and overseas visiting us in Holzminden for flavorist trainings and onboarding, regularly. I very much love to teach young trainees and students, and now I have to think about new approaches to teach and engage them. And although we all got very creative to arrange virtual trainings, tastings and development sessions with customers and colleagues, the personal interaction and joint experiences while travelling is something I really miss.
In addition to tasting cups and blotters, my notebook and headset became probably my most important tools to keep the connection with our global teams and customers. At the same time, however, being aware how difficult these times are for many people, I'm grateful that (so far) my colleagues, friends, family and I were not affected more severely.