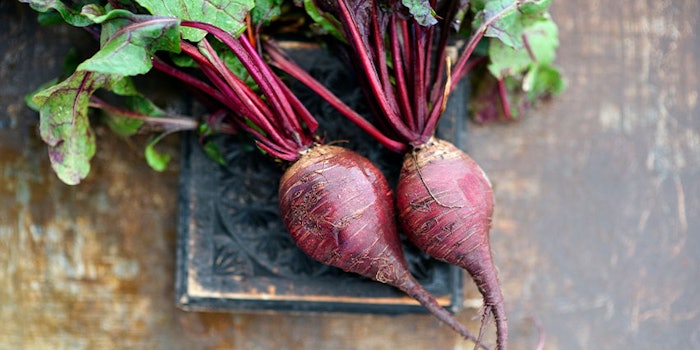 Organoleptic Evaluation Panelists
Gerard Mosciano, Consulting Flavorist
Deborah Barber, Senior Flavorist, FONA
Cyndie Lipka, Master Flavorist, Prinova
Tom Gibson, Director, Flavor Architect, Flavor First Flavors
Robert Pan, Senior Flavorist, T. Hasegawa
Alpa Roman, Senior Flavorist, Flavor & Fragrance Specialties
Bill Aslanides, Senior Flavorist, Synergy Flavors, Inc.
Aparna Oak, Director of Flavor Innovation, Imbibe
Beetroot kiiNotes KII-53093
Supplier: Omega Ingredients
GRAS, CAS# 89957-90-4, Beta vulgaris, natural
Odor: @ 100%. Sweet, vegetablelike, earthy and musty.
Taste: @ 0.5%. Sweet, earthy, musty and astringent.
Possible applications: Obviously beet flavors will benefit the most from this product as well direct addition to vegetable and fruit juices, waters both still and sparkling and unique cocktails.
Omega Ingredients: www.omegaingredients.co.uk
2,5-Dimethylpyrazine N625 Natural
Supplier: Synerzine, Inc.
FEMA# 3272, CAS# 123-32-0
Natural occurrence: Beer,coffee, cocoa, beef, lavender, kohlrabi, pork, potato chip, rum and shrimp.
Odor: @ 1%.Musty, earthy, nutty, brown and moldy.
Taste: @ 5 ppm. Brown, nutty and slightly toasted.
Taste: @10 ppm. Brown, toasted, slightly savory, roasted, nutty and slightly cocoalike.
Possible application: Most roasted, brown flavors will benefit from the use of this pyrazine including cocoa, dark chocolate, coffee, mocha, hazelnut, baked potato and tobacco.
Synerzine, Inc.: www.synerzine.com