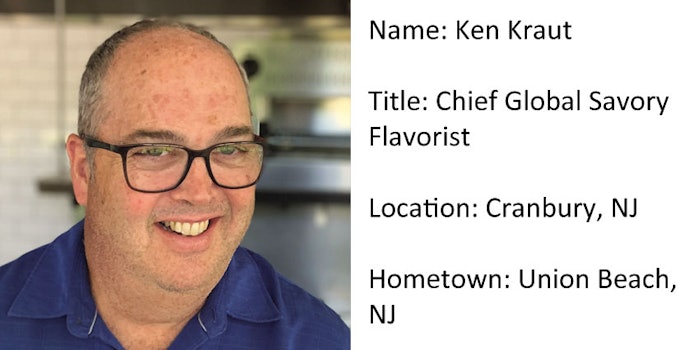 Perfumer & Flavorist+ [P&F+]: Do you have any advice for people coming into the flavor field?
Ken Kraut [KK]: To reach your full potential within the field, you need to have a true passion for flavor creation. Creativity is a key component to success, and you should always be thinking outside the box and daring to be different. Your training should never end, and the more open you are to learning from people of various backgrounds and levels of the discipline, the more successful you'll be. The moment you feel there is nothing else to learn is the moment you limit yourself.
P&F+: What are the types of projects you're working on changing over time? How are the creative demands of the job evolving?
KK: The industry is always evolving, especially in the world of flavor creation and regulations. Working on a global level brings its own complexities and the challenge of creation (ingredients and processes) can be daunting at times. Due to the constant changes in the regulatory landscape and consumer demands, it's imperative to understand the regulations and how to work within the guidelines to achieve the local flavor profiles. That's where a good partnership with your regulatory, sensory and product development teams is essential and open lines of communication are critical to success. The opportunity in the complexity allows a flavorist to employ their technical knowledge and creativity to meet the challenge.
P&F+: What is the best part of your job?
KK: The people! I enjoy interacting with customers and colleagues. I especially enjoy mentoring our young flavorists in ADM's Academy of Future Flavorists. Having the opportunity to work with trainees is an honor and responsibility that I don't take lightly. When one of my trainees makes a mark in the industry, it brings me great pride and joy.
P&F+: Where do you find inspiration?
KK: I draw my inspiration from music and art, but most specifically, from my love of food and the culinary arts. As a savory flavorist, everything for me starts out in the kitchen. Having a thorough understanding of ingredients and kitchen techniques is an integral part of my work. The science behind the kitchen never ceases to amaze me.
P&F+: Are there any recent projects/wins you're particularly proud of?
KK: I have had the great opportunity in my career to work on innovation projects that have yielded patents, papers and the introduction of new technologies.
I'm very proud and honored to have been able to contribute to the research of flavors within our industry.
When it comes to flavor creation, flavors are developed in a team atmosphere and collaboration is essential to a great final product. I'm truly proud of all the ADM global flavor team successes.