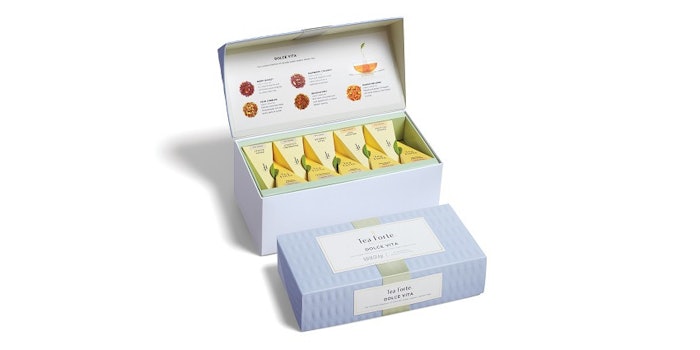 Tea Forté has released Dolce Vita, a collection of five naturally sweetened dessert teas.
Following consumer health trends, the tea collection claims to be gluten-free, vegan, USDA certified organic and naturally sweetened. The collection of teas range in dessert flavors and include:
Berry Basket. A black tea with berry and cornflower petals.
Belgian Mint. Dessert pairing of dark chocolate and peppermint.
Mango Melange. A tropical blend of mango, pineapple, ginger and white hibiscus.
Pear Cobbler. A white tea that blends lychee with honeyed pear.
Raspberry Coconut. Raspberry and rose flavors with a warm coconut.
"Tea should never be ordinary. This special collection of highly craveable dessert teas is designed to inspire tea-lovers and sweet-tooths around the world to try something new," says Tea Forté CEO Michael Gebrael. "The Dolce Vita Collection brings together the best ingredients in masterfully crafted blends to give tea drinkers a pleasurable way to cut back on sugar as part of a well-balanced lifestyle."