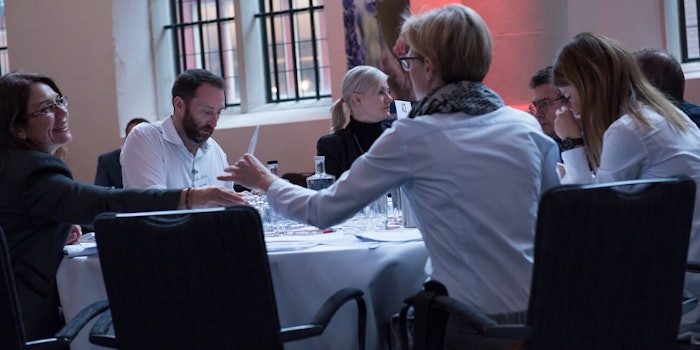 The ninth flavor raw materials exhibition held at the Barbizon Palace Hotel, Amsterdam on February 22 was once again a great success with a record number of people attending; just under 200. This year, the event was organized by a team from Flavour Horizons and in addition to the exhibition, a conference was held on the following day which was attended by around 100 delegates.
A total of twenty eight exhibitors showcased 196 raw materials. New exhibitors and exhibitors returning after missing one or two years included Besmoke, Axxence, Capua, Elixarome, Isobionics, Lionel Hitchen Essential Oils, Mane, Merck and Totally Natural Solutions. The turnover of exhibitors serves to refresh the event ensuring new offerings for flavorists to evaluate.   
Inspired by Natural
Novel ingredients were on show and delegates submitting feedback forms highlighted Besmoke products as being of particular interest. Besmoke showcased  Puresmokea technology that is capable of cleaning aerosol smoke producing a more flavorful smoke with a significantly reduced loading of tar and toxins. A number of natural Puresmoke waters derived from apple wood, cherry wood and oak were presented to delegates and its use in reaction flavors to produce ham, bacon, barbeque and smoked fish flavors were demonstrated along with its application in sauces.
Totally Natural Solutions showcased a range of products derived from the supercritical CO2 fractionation of hops. The 'first cut' was a completely unique blend of methyl esters found only in hops including methyl-4,8-decadienoate, methyl-4-decenoate and methyl geranate.  This mixture of esters had a subtle fruity, floral, pear and mango character, which is likely to be of great interest to flavorists. Other cuts included a ketone fraction with floral, pineapple and lychee nuances; a spicy fraction containing sesquiterpene alcohols; and a sesquiterpene fraction consisting mainly of caryophyllene and humulene and pure myrcene derived from hops with uses in tropical fruit flavors.
Destilla exhibited a kokumi extract in a chicken broth which clearly showed the kokumi characteristics of enhanced mouthfeel with a long lasting taste profile. Delegates also liked the Destilla cucumber extract.
Isobionics exhibited natural valencene and natural nootakone isolated from fermentation using the bacterium Rhodobacter. The use of biotechnology to produce flavoring materials is growing and in the FlavourTalk Conference, Benoit Palms of Evolva described how the company is using yeast fermentation to produce valencene, nootkatone and vanillin with other flavors such as saffron and stevia sweeteners (Reb D/M blend). Ralf Berger of the University of Hannover described the production of L-arginyl dipeptides and lignans for use as salt taste enhancers using a fungal derived peptidolytic enzyme. 
Other materials on show that attracted the attention of flavorists and mentioned in feedback forms were natural 3-methyl-2,4-nonanedione from Axxence, lemon oil (5 fold) from Lluch Essence derived from a newly patented process, 20-fold lemon oil from Frutarom F&F ingredients and blood orange concentrate from Lionel Hitchen Essential Oils.
Riverside Aromatics featured methyldihydrojasmonate from Riverside Aromatics, natural homofuranol from Omega Ingredients, timur pepper with its tongue tingling properties from Mane, jambu oleoresin containing spilanthol with its tingling and mouth-watering properties from Robertet, natural sulphurol from Elixaraome and a beef spiro compound from O'Laughlin. 
Biotechnology Driving Flavors
In previous years there have been particular trends in terms of the products that exhibitors selected for demonstration. For example, last year there were quite a number of beverage ingredients and citrus products. This exhibition had its share of citrus offerings—which are always of interest to delegates—but the real theme for this exhibition was innovation with new materials that are being offered from patented processes and the growing use of biotechnology to produce flavoring substances.
Very novel and creative ingredients were on show demonstrating the innovative flair of the companies producing them. The key driver underlying these innovations is the continuing demand for natural ingredients: over 75% of the products that were demonstrated at the exhibition were EU natural.
a Puresmoke is a registered tradename of Besmoke.