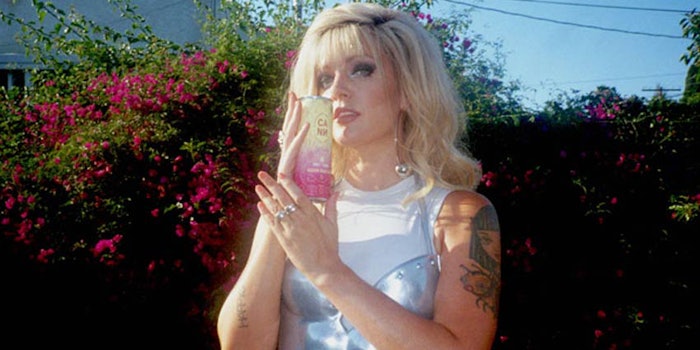 Cann has announced Passion Peach Mate, a caffeinated cannabis beverage designed in collaboration with musician and Cann investor Tove Lo, Sweet Flower and Airfield Supply Co.
Related: Mars Wrigley Announces Halloween Themed Skittles
Inspired by the popularity of vodka mate beverages in Berlin clubs, Passion Peach Mate is Cann's first product offering to add all-natural caffeine to its signature microdose of THC.
Passion Peach Mate comes in 12 oz tall cans with 5 mg of THC per can and costs $20 per four-pack. 
Tove Lo has been an investor in Cann since late 2020. The pop star was heavily involved with the vision and creative execution behind Cann's latest flavor launch, from starring in the product launch video to using her songwriting skills to co-write the packaging copy.
Luke Anderson, co-founder of Cann, said, "Throughout 2020 when the pandemic hit and we were trying everything to sustain the brand's momentum, I would drive my beat-up Volkswagen around North Hollywood and drop cases off with entertainment folks to try and convince them to fall in love with Cann. Tove and her husband, Charlie, were a regular stop and fiercely loyal to the brand. They expressed a lot of excitement about collaborating on a limited release that had a "high energy vibe," so we met up for dinner one night and agreed to work together on bringing the first caffeinated Cann to market. There's something about the clean and natural caffeine from this tea that enables you to feel upbeat and dance for hours, without the dreaded crash."
Tove Lo said, "I've been obsessed with Cann since the first time I tried it a few years ago. I love the high, the flavors, the design and also the people who run it. I mean, I even started watching Luke's dog from time to time! This collaboration is a collaboration between friends and like-minded humans and those are always the best! I'm so happy to be a part of this new flavor, I love the campaign we've created together with our teams! Overall feeling invincible on Passion Peach Mate, I'm living for it!"
Want to know everything going on in flavor & fragrance? Sign up for P&F+'s newsletter. You can also follow along on Instagram and LinkedIn.