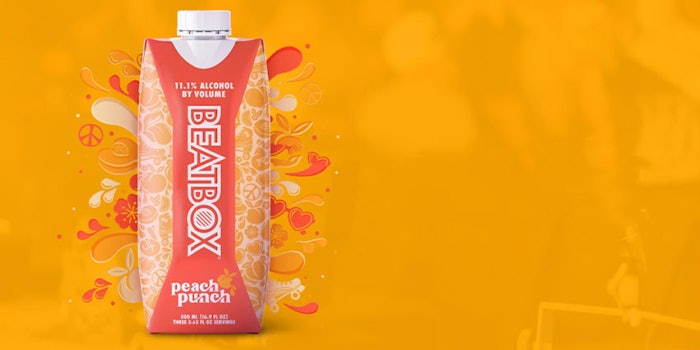 BeatBox Beverages has added a new flavor, Peach Punch, inspired by Peach Ring candies, to its line of alcoholic Party Punches.
Related: Cocktail Squad Releases Zero Sugar Cocktail Cans
Each Party Punch tetra has 11.1% ABV, 130 calories and 8 grams of sugar per 5.6-oz serving and is offered at a suggested retail price of $3.99.
The flavor has begun rolling out on shelves and will be released online November, 2020.
"We are extremely excited to be adding a sixth flavor to our already highly sought after Beatbox Beverages lineup. As we are in the middle of finalizing our annual business plan for 2021, Peach Punch will add yet another opportunity for both wholesalers and retailers to grow their revenue and margin, while also giving consumers another great choice in this dynamic category," said vice president of sales Tony Zangara.