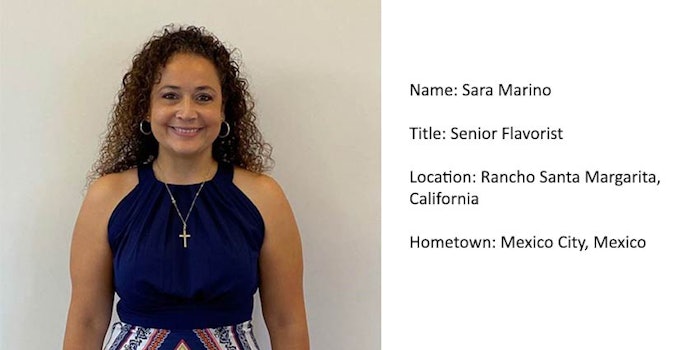 Perfumer & Flavorist+ [P&F]: What led you to the flavor industry?
Sara Marino [SM]: At an early age, I fell in love with learning about food composition and understanding the relationship between ingredients and health, happiness and nutrition—especially flavors. This motivated me to study food engineering at Universidad Simon Bolivar in Mexico City and, later on, to pursue certification as a member in the Society of Flavor Chemists.
I believe flavors play a critical role in the food and beverage industry because they spark consumer demand in products, contribute to consumer buying power and excite consumer tastes. They really deliver happiness!
Going to work every day is very enjoyable because my team and I work with advanced application technologies to achieve what consumers desire. It's very gratifying to know that we can attract consumers to healthy products with flavors. I'm proud to be a part of Blue California's flavor and fragrance division to supply natural and clean ingredients that are sustainable, plant-based and non-GMO.
P&F: What applications do you primarily formulate for? Do you have a favorite?
SM: I formulate flavors for alcoholic and non-alcoholic beverages, mostly fruit flavors such as red raspberry, strawberry, citrus, tropical, etc. But I also love to work on bakery and confectionery applications and look forward to continuing to work on those types of projects here at Blue California. Every time I have the opportunity to work on bread, cake, rolls or candy applications, I really enjoy it because it involves delicious flavors like butter, vanilla, chocolate, maple and creative fruit combinations.
P&F: Are there any recent projects/wins you're particularly proud of?
SM: We are definitely taking the taste of alcoholic and non-alcoholic beverages to another level with our sustainable captive ingredients. We are promoting a line of natural and sustainable flavors, particularly targeting hard seltzers.  It is quite a challenge to deliver true-to-fruit flavors to products that are not too sweet, but I personally like less sweet products, so it's a labor of love.
P&F: Where do you find inspiration?
SM: To be in the flavor business, passion for food and beverages is key. I like to be aware of what is new in the market, and I am continuously inspired by nature and different world regions. 
For example, my Mexican heritage celebrates different fresh fruit varieties by incorporating them into beverages and other food products. Citrus is a favorite one because it is refreshing and complements Mexican foods in many regions. My parents are from two different states located in the Gulf of Mexico. The type of food that I enjoyed during my childhood was amazing and unforgettable. The ingredients in the food were very distinctive and flavorful. The combination of different spices with traditional and common ingredients came together deliciously, tantalizing my palette—tastes and aromas that I still remember today.
When I moved to the U.S. five years ago from Mexico, I noticed that products were very sweet. Vanilla was a common component in almost all products. In Mexico, people have a "sweet tooth," but we also like to balance the sweetness with savory and sour tastes. It's not uncommon to see sweet, salty and sour elements in food. When it comes to sweetness alone, I find products in Mexico are less intensely sweet than in the United States.
P&F: Are there any local ingredients that inspire you?
SM: I am based in California, so I have the advantage of accessing fruits from a wide range, depending on the season, like peaches and nectarines.  When I compare yellow versus white nectarines, my senses and taste buds can differentiate between the two in aroma and taste. White nectarines possess an intoxicating floral scent, while yellow nectarines impart a juicy flavor and fruity scent. 
Given my heritage, many ingredients unique to Mexico inspire me to develop flavors with different profiles, such as tamarind, mango and cajeta, a type of dulce de leche.
P&F: Describe yourself in 3 ingredients.
SM: I like to sing, so my go-to ingredient for making me feel alive and happy is Cis 3 hexenyl acetate. It's juicy, fresh and natural.
Vanillin is sweet and traditional, yet the simple and complex characteristics are intoxicating and calming at the same time.
The flavor of cocoa is my final ingredient because it is intense, bold, emotional and sensual.
P&F: Do you have any favorite ingredients to work with? Why?
SM: My favorite ingredient to work with is Cis 3 hexenyl acetate. I love its green, juicy, fresh, acidic and mouthwatering characteristics. It performs the best in all fruits by enhancing naturality and freshness. Even in red fruits, it is present but in lower amounts than in green fruits.
Acetoin gives a great butter aroma and taste to boost any flavor aroma while balancing the aroma taste of many flavors. It enhances creaminess and body in our newly launched Gustarome flavor notes. This collection of flavor keys offers a range from Creamy Vegan, Pulpy Tropical Fruit, Succulent Stone Fruit to Stone Fruit Shimmer.
P&F: How has COVID-19 affected your day to day as a flavorist?
SM: As a flavorist, I can adapt to what is in front of me and be creative with limited resources. I'm very delighted that Blue California selected me to join its flavor and fragrance team with knowledgeable experts to make people feel happy during the pandemic.
While we practice social distancing and take other safety precautions, this time has brought us close together as a team. The united collaboration sparks creativity as well as productivity in the lab. As for me, I see my position during the pandemic as a great opportunity to hone my flexibility and patience, foresee ingredient shortages and provide excellent service.