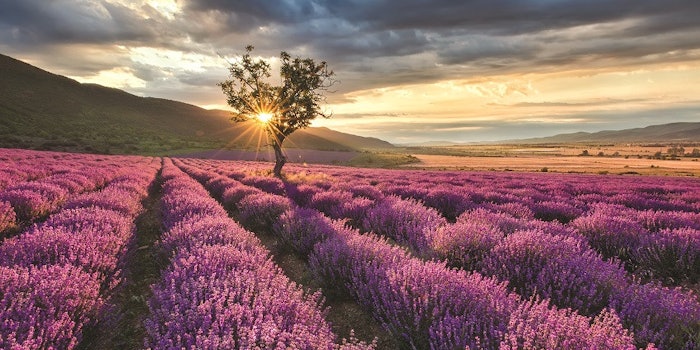 Symrise
Holzminden, Germany
2018 sales: €3,154 milliona / $3,726 million*
In 2018, Symrise continued its strong growth by registering e3,154 million in sales and an EBITDA of e631 million, an increase of 9% from 2018 fiscal year numbers. Marking the 13th year of sales growth, the company has also continued to invest in sustainable raw materials, training and educating employees and expanding or optimizing production capabilities.
At the heart of Symrise's growth is its efforts to understand consumers' demands for natural flavor and fragrance ingredients that are both transparent and sustainable. On the fragrance side, Symrise has developed a sulfate turpentine oil, created from a paper by-product, to be used in fragrance mixtures. For flavors, the company has done extensive research in what consumers around the globe look for in natural products, finding that regional demands for natural food and beverages vary greatly.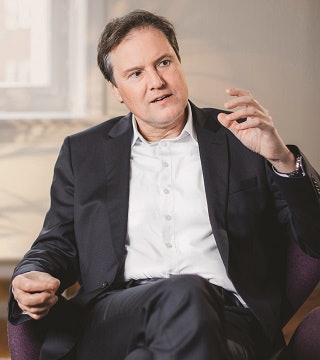 Heinz-Jürgen Bertram
Chairman and CEO
Since last year, what has Symrise done to maintain or raise its position on the leaderboard? What would you attribute to your success in 2018?
In 2018, Symrise again experienced strong growth. One of the reasons for this success is our strength in using our resources in a highly targeted way—be it the right investments at the right time, the development of our own talented employees or responsibly handling important raw materials— especially at a time when materials essential for the industry are becoming increasingly scarce. Symrise has planned ahead and used backwards integration for important raw materials or established long-term and trustworthy partnerships with suppliers – thus continuing to measurably strengthen the sustainability of sourcing.
Taking all this together, i.e. purchasing sustainable raw materials, training and educating employees, expanding production capacities or optimizing existing ones, this leads to the following: We are investing at many levels in our business and experienced our 13th year of growth in a row in 2018.
To give you a few key figures: We achieved an organic sales growth of 9% in the 2018 fiscal year and set a sales record once again, with e3,154 million in sales and an EBITDA of e631 million. With our profit/EBITDA margin of 20%, falling within our target corridor of 19-22%, we continue to be one of the most profitable companies in this industry. We generated earnings of e2.12 per share for our shareholders, and the profit distribution will continue to rise. Equally important for us is that we grow faster than the market with our diverse products. Our compound annual growth rate, or CAGR, was 8.2% for the period from 2006-2018.
In short, our sales grew faster than the corresponding markets. We remain one of the most profitable companies in the industry. Thanks to our high level of innovation, we were able to expand our market position while boosting our sustainability performance. These definitely are achievements that make us proud.
Raw material shortages continue to challenge the industry's supply. What is the future of natural ingredients and how do you propose a more stable supply chain for the future? How are synthetic ingredients playing a role in this stability?
We do see a very far reaching future for natural ingredients. In the flavor and nutrition segments, we place great emphasis on close cooperation with the producers of our natural raw materials. The topic of "naturalness" can be illustrated by manifold examples, such as our code of nature initiative. Symrise is meeting the global trend towards naturalness with this comprehensive concept and based it on four pillars: the best naturals, applied science, transparency and consumer-driven. The reason for this is simple. Consumers are placing increasing emphasis on naturalness. They want to understand exactly what the ingredients of their food are and where they come from. They expect products to come from sustainable agriculture. And they want carefully prepared and properly stored foods and beverages so that they retain their original taste and nutritional value.
Also, we are increasingly utilizing the byproducts that arise from raw materials processing for food production, replacing artificial cosmetic ingredients with products from sustainable and renewable sources or using byproducts from the paper industry for the development of fragrances that are certified as sustainable. Let me give you three examples:
For instance, we are using food side streams from bananas. Just imagine, one third or 1.3 billion tons of global agricultural food production today is lost or wasted along the food chain, and many natural resources are not consistently used in food production. Our nutrition segment (Diana) has significant experience in turning these valuable ingredients into equally valuable products. These byproducts still contain many nutrients such as proteins, antioxidants, minerals, fiber or other micronutrients, which are valuable from a nutritional point of view. For example, the production of our banana purees, flakes and powder —which are used in baby food and other products —generates around 22,000 tons of banana peels a year, which still contain a lot of dietary fiber and health-promoting substances. If we extract and recycle these and many other natural ingredients, it will have a positive impact on the environment. In this way, we contribute to the conservation of natural resources while also creating new markets and economic advantages for our company.
Or take our cosmetic ingredients that we are increasingly basing on natural and renewable raw materials. These ingredients are trending among global consumers a lot right now. As a consequence, more and more cosmetics producers are responding to the wishes of consumers by using raw materials and ingredients that come from nature and can be sustainably cultivated and harvested. At Symrise, we are offering the perfect fit for this demand. Among others, we have developed Hydroliteb 5 green, which can do all the same things as the traditional Hydrolite 5, but the ingredient is natural-based and sustainable. It is made from a by-product generated in producing sugar from sugar cane. It can be used in numerous applications to moisturize the skin, enhance the efficacy of ingredients and improve the appearance, consistency and protection of the product itself.
And my third illustration of our sustainable & natural approach: Until now, only paper and wood products had been certified with the globally recognized FSC certificate for protecting forests. In a joint project with one major customer, Symrise has now become the first company ever to receive this certification for a liquid raw material: the raw sulfate turpentine oil, a by-product from the paper industry that is used in numerous fragrant mixtures. Turpentine-based ingredients, such as citronellol, geraniol, dihydromyrcenol or linalool, are fundamental in the perfumer's palette. These raw materials are indeed used in no less than an average of 30 % of all Symrise fragrant mixtures sold to its customers. Turpentine oil is produced from the industrial processing of pine – the trees come from the southeast United States, where they have been grown in certified renewable plantations.