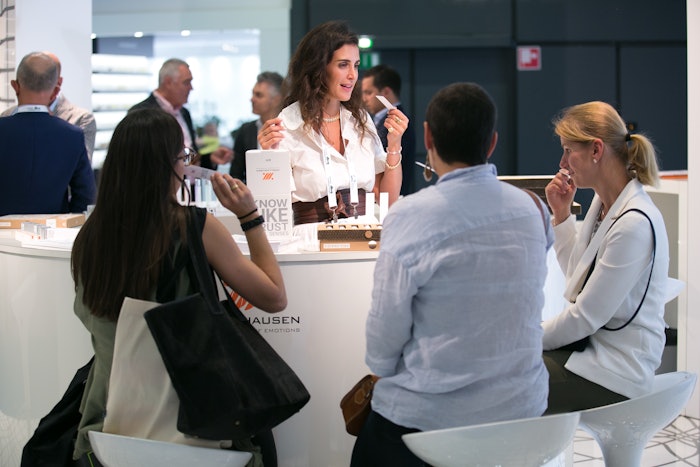 The World Perfumery Congress (WPC) is returning to Miami Beach, Florida June 29-July 1, 2022, and early bird rates are now available for attendees. Visit worldperfumerycongress.com to join in the fun.
The WPC is the global stage for fragrance artistry, ingredients, technology, brands and business. The 2022 congress will address the future of the industry. WPC 2022 will be held in person followed by a Virtual Congress.
Prepare for a lineup of the industry's global innovation leaders, including perfumers, R&D specialists, marketers and product developers, executives, market analysts and more.
Early bird rates are now available for the three-day conference for $1,850. Attendees can also snag tickets for chosen days of the conference, as well as grab a ticket for the Fragrance Reunion Celebration on June 30. 
There is also a perfumer rate discount** for the three-day conference package ($1,250), more details can be found on the registration page.
Taking the Stage
"Perfumery in 2030: How Technology and Regulatory Changes will Impact the Perfumer's Role," with Procter & Gamble Research Fellow & Senior Perfumer,  Phil Porter. 
"Part 1: Formulating with Woods," with Berje Perfumer, Michelle Bruckmann.
"Elevating Purpose-Led Brand Experience via Fragrance," with Reckitt Global Director Fragrance & Sensory Enrichment, Pamela Asplund.
"How Global Regulatory Trends Impact Fragrance," with IFRA President, Martina Bianchini and Communications Director, David O'Leary.
"Innovating with Purpose," Givaudan Global Head of Science and Technology - Fragrances, Jeremy Compton.
"Forgotten Perfume Plants: Fragrance Revelation for Innovation and Cultivation Recovery for Biodiversity Restoration," with Laboratoires M&L, Groupe L'Occitane, R&D Director, Natural Ingredients and Fragrances, Pascal Portes.
"Effect of Fragrances on Emotional & Physical Wellbeing," with Agilex Fragrances Perfumer, Neha Okhade.
"The Future of Fragrance Creation," with Symrise Master Perfumer, Dirk Braun.
"Looking Forward: The Future of Fragrance Trends," Fashion Snoops VP & Creative Director, Melissa Hago.
"Fragrance Stewardship in a Digital Age Panel," with Fragrance Creators' President and CEO, Farah K. Ahmed.
"The Changing Landscape of the Perfumery Industry," with Firmenich Global Perfumer Division & Executive Board Director, Ilaria Resta.
"The Origin of Dreams: Musings of a Chemical Engineer and a Botanist on Today's Creative Approaches to Naturals in Fine Fragrance," with Givaudan Vice President of Perfumery, Rodrigo Flores-Roux, alongside Senior Perfumer, Stephen Nilsen.
"The Past, Present & Future of India's Fragrance Industry–Decoding it's DNA," with Sacheerome Fragrance & Flavour,  Chief Perfumer & Managing Director, Manoj Arora.
"The Benefits of Fragrance in Daily Life," with Procter & Gamble Research Fellow & Master Perfumer, Rafael Trujillo, alongside Neuroscientist, Faculty Member at Brown University and Boston College, Rachel Herz.
"What Can We Learn From the Indies?," with 4160 Tuesdays Ltd Perfumer, Sarah McCartney.
"Fragrance's Sustainable Future" Panelists: Guillaume Audy (Iberchem), Julien Firmenich (Firmenich), Nathalie Benareau (Symrise), Theodore Anastasiou, Ph.D. (P2 Science) and Koenraad Vanhessche, Ph.D. ( ACS International).
"Diversity Discussion: How to Implement Change in Fragrance" with YOSH olfactory sense Founder, Yosh Han and  Palette Naturals by 40notes, LLC's Founder, Nose & Creative Director, Miriam Vareldzis.
More sessions and speakers to be announced. 


Get Your Seat
Don't miss out on upcoming details, speaker announcements and much more. Register to be in the know on all things WPC 2022, visit www.worldperfumerycongress.com. Can't make the in-person event? Hang tight. There will be more details to come regarding a virtual component.
** Qualified Perfumers is defined as trained perfumers working within the fragrance industry who are recognized as a perfumer (trainee, evaluator, etc) by an accredited perfumery society such as the ASP, SFP, BSP, etc. The WPC will vet qualifying applicants requesting the perfumer discount rate through these association partnering organizations. This discount only applies to perfumers who register for the three-day event. No perfumer discount applies to one or two-day event registration.