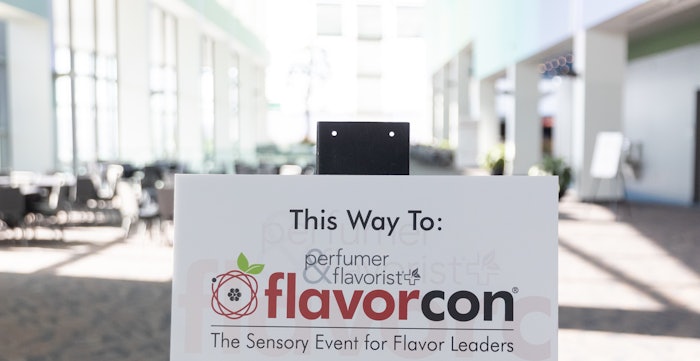 Peter Wynn Thompson
Ready for the return of Flavorcon? Scheduled for November 8-9, 2023 in Cincinnati, OH, at the Duke Energy Convention Center, here's a look at all of the announced sessions and speakers set to take the stage!
Visit the link to each corresponding session to read about the speaker's bio and receive more information on the session. You can also visit www.flavorcon.com.
Euromonitor Talks Plant-based Market Trends at Flavorcon 2023
In Miri Eliyahu's session, "Plant-based Market Trends in the Food Industry," the senior analyst will take the stage to discuss the intricacies of the market drivers and the future of the plant-based market. The global plant-based food market size is predicted to expand 3x, witnessing an increase from $11.3 billion in 2023 to $35.9 billion by 2033, according to Future Market Insights.
Marie Wright Moderates "Best Practices for Mentoring Flavor Chemists" Panel at Flavorcon 2023
ADM president of Creation, Design & Development and chief global flavorist Marie Wright will be leading panel of seasoned flavorists discussing best practices for mentoring aspiring flavor chemists including Katie Crowley, senior flavorist at ADM Nutrition, Richard Dandrea, principal flavorist at Robertet and Alpa Roman, certified senior flavor Chemist at Lucta.
2 Beverage Innovation Sessions on the Flavorcon 2023 Menu
1. Certified cicerone and all-around beer enthusiast, Stephen Rich will return to the Flavorcon stage for his session, "How to Brew: Empowering Flavorists." This session will provide flavorists and flavor scientists with the basic formulation and process steps in brewing, and the general impact on flavor and aroma to better approach flavor innovation from a brewing-specific application.
2. Flavor chemist Michael Colangelo is set to take the stage for the timely session, "The Trick to Dealcoholizing Wine Without Compromising Flavor." Colangelo will dig into the challenges and how to rebuild the flavor profiles in low-to-no wines and non-alcoholic sips. And yes, there will be plenty of samples ranging from full to no-alcohol so that attendees can get a taste of the process.
How to Better Formulate for Sports Nutrition and Dietary Supplements
Phoenix Formulations lead R&D technician Felicite Woods took the microphone at Flavorcon 2022 as a questioner, now she's preparing to take the stage for a session of her own. During Flavorcon 2023, Woods will discuss the trends, opportunities and challenges of flavor formulation in regard to sports nutrition and dietary supplements.
Confessions of a Former Sensory Scientist at Flavorcon 2023
Kroger senior Innovation manager Natalie Taake returns to the Flavorcon stage to provide actionable steps to attendees on how to better work with their sensory partners and how the current approach for over-simplified sensory testing can be riskier than no testing at all.
How to Apply Taste and Smell Neuroscience to Create Taste Modulators
Alex Woo is set to take the stage at Flavorcon 2023 for his session, "How to Apply Taste and Smell Neuroscience to Create Taste Modulators."
Recent advances in taste and smell neuroscience have fundamentally changed our understanding of human flavor perception. Flavor should be redefined as including all five senses: taste, smell, sight, sound and touch.
NeuroFoodScience, the application of neuroscience in food science, can be an approach to creating natural taste modulators that are better for you and our planet. Actionable examples of modulators for sweet, bitter, salty, umami and kokumi tastes will be highlighted.
Register Today
The time has officially come—registration is now open for Flavorcon 2023! Scheduled for November 7-9 in Cincinnati, OH, early bird tickets are now available for attendees.
To give flavorists and product developers the tools they need to succeed in an increasingly complex market, Flavorcon will connect the dots among emerging R&D advances, food and beverage market and flavor trends, and supply chain innovations. The two-day conference will include a series of data/analytics presentations, interactive educational talks and panel discussions featuring some of the industry's leading experts. Attendees will come away inspired with new tools and connections to create flavorful wins and products consumers love.
Flavorist Master Class
New to Flavorcon, this first-come first-served pre-Flavorcon session is designed to take attendees on a guided tour through a lineup of organoleptic materials with the help of Bell Flavor & Fragrances principal flavorist, Cyndie Lipka, and independent flavorist and "Flavor Bites" columnist, John Wright. Attendees will be split into two groups, first attending a 45-minute session with one of the flavorists and then swapping to join a 45-minute session with the other. These sessions are a $50 add on to your conference registration.
This event is limited seating so be sure to register ASAP secure your seat, visit www.flavorcon.com.