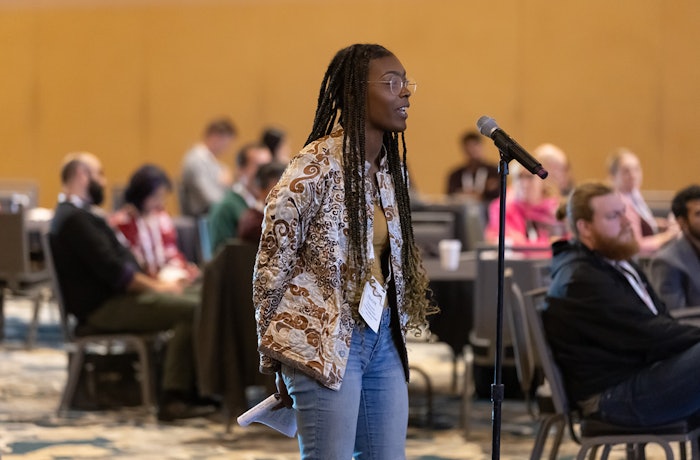 Peter Wynn Thompson
Phoenix Formulations lead R&D technician Felicite Woods took the microphone at Flavorcon 2022 as a questioner, now she's preparing to take the stage for a session of her own. During Flavorcon 2023, Woods will discuss the trends, opportunities and challenges of flavor formulation in regard to sports nutrition and dietary supplements.
Felicite Woods
Felicite Woods is an enthusiastic scientist from Joliet, Illinois. She completed her Bachelor of Science in Forensic Science degree at Arizona State University in 2019, where she embraced her niche for laboratory analyses and procedures. Woods leads the R&D laboratory at INW-Phoenix Formulations in the development of superior, science-based formulations across various products including powders, capsules, and tablets for sports nutrition and dietary supplements. In her previous role as R&D Assistant, she developed a passion for flavor profile development in products, allowing her to provide over 100 innovative flavor ideas to INW's customers for their products. In her current role as lead technician, Woods has gained experience in product development, laboratory regulations, team management, and product formulation(s). While her responsibilities in R&D have increased greatly, Woods' passion and knowledge for innovative flavor profile development continues to grow. Her dream job is to become a flavorist, so that she can both create and apply new and extraordinary flavor concepts for various products. 
Register Today
The time has officially come—registration is now open for Flavorcon 2023! Scheduled for November 7-9 in Cincinnati, OH, early bird tickets are now available for attendees.
To give flavorists and product developers the tools they need to succeed in an increasingly complex market, Flavorcon will connect the dots among emerging R&D advances, food and beverage market and flavor trends, and supply chain innovations. The two-day conference will include a series of data/analytics presentations, interactive educational talks and panel discussions featuring some of the industry's leading experts. Attendees will come away inspired with new tools and connections to create flavorful wins and products consumers love.
Flavorist Master Class
New to Flavorcon, this first-come first-served pre-Flavorcon session is designed to take attendees on a guided tour through a lineup of organoleptic materials with the help of Bell Flavor & Fragrances principal flavorist, Cyndie Lipka, and independent flavorist and "Flavor Bites" columnist, John Wright. Attendees will be split into two groups, first attending a 45-minute session with one of the flavorists and then swapping to join a 45-minute session with the other. These sessions are a $50 add on to your conference registration.
This event is limited seating so be sure to register ASAP secure your seat, visit www.flavorcon.com.