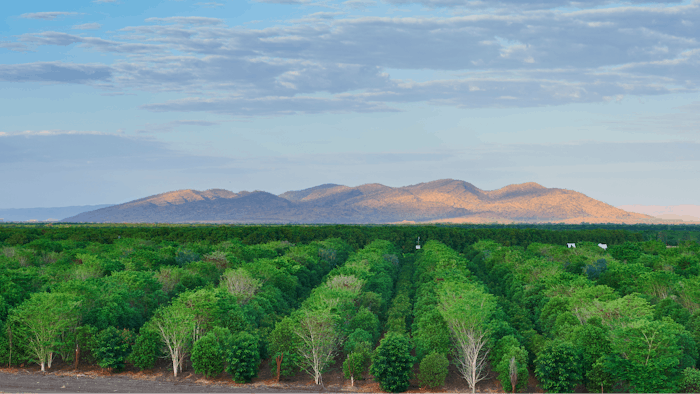 C/O Quintis Sandalwood
Quintis Sandalwood has announced that it has achieved certifications from the Forest Stewardship Council (FSC) and Programme for the Endorsement of Forest Certification (PEFC)/Responsible Wood.
Related: Quintis Sandalwood Reimagined Fragrance Competition Winners Revealed
FSC promotes the responsible management of the world's forests and has certified Quintis to its Forest Management standard. This certification confirms that Quintis is managing its sandalwood plantation estate in a way that preserves biological diversity and benefits the lives of local people and workers, while ensuring it sustains economic viability.
PEFC is another international body providing best practice international benchmarks for sustainable forest management. Responsible Wood is the National Governing Body representing PEFC in Australia and has certified Quintis to its Sustainable Forest Management (AS 4708) standard.
Both accreditations represent significant recognition at a global level for Quintis Sandalwood's commitment to, and investment in, sustainable forest management practices.
Quintis CEO, Richard Henfrey, said this is a huge achievement for the business which has required a considerable investment in time and resources, particularly given the size of the group's plantation. Quintis manages over 5.5 million Indian sandalwood trees across 12,000 hectares of land in the north of Australia.
Henfrey explained, "Our goal at Quintis is to become the world's most trusted source of ethical and high-quality Indian sandalwood materials. For this reason, sustainability—particularly in reference to forest management—has always been at the heart of our strategy."
Indian sandalwood is a species that is endangered in the wild due to decades of illegal poaching and over-harvesting in its native lands. In 1998, it was declared a vulnerable species by the International Union for Conservation (IUCN). Quintis was founded to ensure that Indian sandalwood continues to survive and thrive by establishing plantations and managing them in a sustainable way.
Henfrey also noted that the certifications will have flow-on benefits for the raw products—oil and powder—that Quintis produces. "Consumers and brands are increasingly demanding natural ingredients that are sourced ethically and sustainably. Indian sandalwood is a high-risk ingredient because of a history of overexploitation and unsustainable practices. Clients can now rely on our certifications as evidence that our plantations are managed to the highest possible sustainability standards, and therefore our oil and powder products are derived from trustworthy and reliable sources."
Henfrey continued, "To have two of the world's leading authorities recognize us as a leader in sustainable forest management demonstrates and reinforces our commitment to creating a brighter and healthier future for sandalwood."
Quintis' plantation estate is located on Traditional Land encompassing the land of the Wagiman, Jawoyn, Dagoman and Yangman people in the Northern Territory; the Bindal people in Queensland; and the Miruiwung Gajerrong people in Western Australia, with some areas designated as "sacred site," places within the landscape that have a special meaning or significance under Aboriginal tradition.
Quintis has open channels of communication with Traditional Land Owners and involves them in the management of the sacred sites, working with the Aboriginal Areas Protection Authority to ensure official consent for new projects occurring on traditional land. Quintis also works with a local indigenous recruitment agency in Kununurra to provide employment opportunities on a casual and permanent basis.
Want to know everything going on in flavor & fragrance? Sign up for P&F+'s newsletter. You can also follow along on Instagram and LinkedIn.