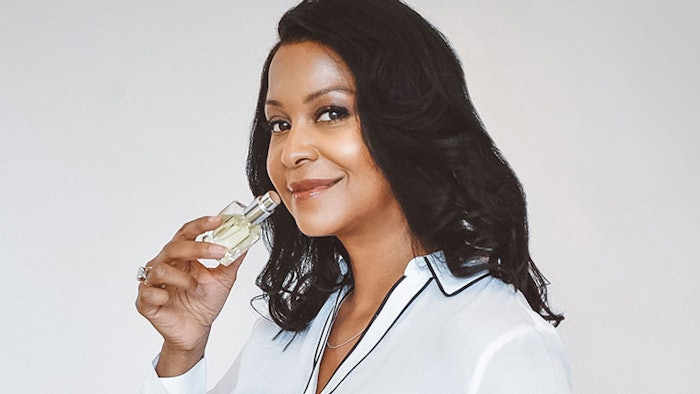 Ahead of the upcoming announcement of the Quintis Sandalwood Reimagined contest winner, Perfumer & Flavorist+ connected with one of the finalists, perfumer Gwen Gonzalez (Givaudan) to discuss the inspiration behind her creation, her fragrance journey and outlook on the industry.
Quintis launched this global competition for perfumers to reimagine Indian sandalwood (Santalum album) within a fragrance, in partnership with the American Society of Perfumers.
Related: Quintis Announces Sandalwood Reimagined Competition Finalists
Can you share your inspiration for the fragrance?  
I was inspired by a recent trip to Colombia where I visited the Nuesa Forest. After stumbling from the guided trail, I discovered a secret, secluded patch of terrain; I was mesmerized by the unexpected plant and floral species that surrounded me. The canopy was dense with cedar trees, along with eucalyptus and bamboo scattered amongst them. The trees created a soft filter effect on the otherwise very bright day. The breeze was cool inside the forest and it carried the scent of fallen eucalyptus seed pods which smelled of the characteristic camphoraceous, refreshing notes as well as an unexpected green, blackcurrant facet. The forest floor was covered with soft pine needles piled so high that with every step taken felt like you were floating. It released a slightly hay-like, earthy, woody aroma which was enveloping. The entire atmosphere was so quiet and serene that I wanted to capture this moment sensorily.
 Can you touch on the formulation of this fragrance? What are some of the highlights for you? 
The fragrance was built around a harmony of the soft, warm and cool elements of Quintis Sandalwood. This milky, woody, slightly-smoky beauty is the heartbeat of the fragrance. The light aspect appears as the fragrance opens with an airy, cloud-effect of a Eucalyptus seed pod accord, which is brightened by petitgrain, orange bitter oil and a hint of spearmint. Invigorating warm notes of pink pepper, allspice and cardamom counterbalance the cool aspect and create warmth. A soft heart of fruity poivre de cassis accord along with orris and saffron lightly bridge the top notes and the background...The highlight of the background is the Quintis Sandalwood which is then framed by amber, vetiver, fir absolute, tonka and sesame. The overall creation is a genderless skin scent. It's meant to lay low on the skin and softly radiate inviting others to enjoy as they lean into the wearer. After two years of social distancing, I felt a need to create something that embraced closeness and connection.
What does the perfume competition mean for your career?  
Being a new perfumer, this competition is assisting me in building further visibility in this beautiful world of fragrance. It also provided an opportunity to share my point of view and a different way of formulating than I typically do.
What applications do you primarily formulate for? Do you have a favorite?
I primarily work in fragranced body care, so body lotions, creams, shower gels, oils, etc. I also formulate in candle/air care formats and some alcohol. I really enjoy working in all formats as each presents its own challenges. I'm constantly gaining crossover learnings—for instance, my work within a body cream might give me a new perspective on how to use a specific material within a solid perfume or body oil.
Are the types of projects you're working on changing over time? How are the creative demands of the job evolving? 
Yes, I feel our industry has experienced an acceleration in technologies, sustainability, and naturality/clean demands with the advent of COVID-19. We are also seeing the wellness and self-care arena flourish with an emphasis on air care and fragranced body care.
The Quintis Sandalwood Reimagined contest winner will be recognized at the awards ceremony on July 1, 2022, at the World Perfumery Congress.
 Want to know everything going on in flavor & fragrance? Sign up for P&F+'s newsletter. You can also follow along on Instagram and LinkedIn.