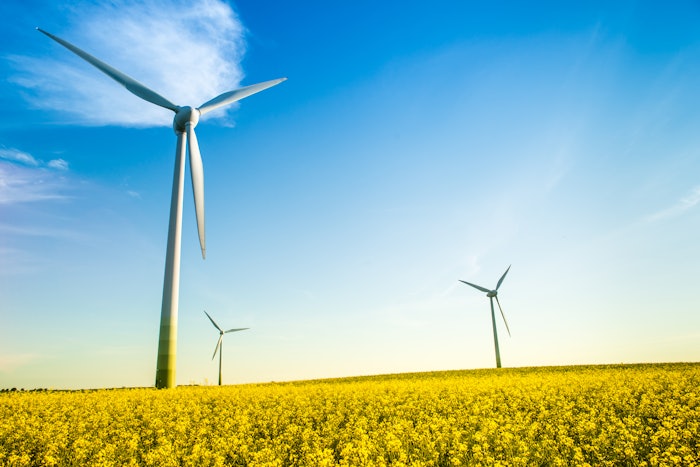 BASF has released an update on its climate targets, stating that by 2030 it aims to reduce its greenhouse gas emissions by 25% compared with 2018 and is maintaining its goal of net-zero emissions globally by 2050. On its path to reducing global emissions to 16.4 million metric tons by 2030, BASF is publishing an annual CO₂ emissions forecast as part of its outlook with a corridor of plus or minus 0.5 million metric tons.
Related: BASF Acquires Zodiac Enterprises to Expand Chemical Catalyst Recycling
Renewable energy as a main driver of emission reduction
In 2021, BASF reduced CO₂ emissions by around 3% compared with 2020 despite significantly higher production volumes. To a large extent, this was due to the increased use of renewable energy. Switching power to renewable energy will be the main driver of emission reduction until 2025.
To cover its demand for renewable energy, BASF is pursuing a make-and-buy strategy. This includes investing in its own renewable power assets and purchasing green power from third parties. In 2021, BASF purchased a stake in Vattenfall's wind farm Hollandse Kust Zuid (HKZ). Furthermore, BASF has signed 25-year power purchase agreements (PPAs) with ENGIE and Ørsted for the supply of significant amounts of renewable electricity from wind and solar power in Europe. In the United States, BASF has concluded long-term supply contracts for wind and solar power for its Freeport and Pasadena sites. In China, BASF has signed agreements with suppliers for the purchase of renewable power for its new Verbund site in Zhanjiang.
Ludwigshafen: Development of new technologies and implementation of new steam supply concept
Currently, about 50% of the steam demand at the Ludwigshafen site is based on steam generation processes that produce CO₂ emissions. A new approach here is to generate steam using electricity. BASF is working with Siemens Energy on a project in the acetylene plant that uses heat pumps and vapor recompression to upgrade waste heat such that it can be used as steam for the steam grid of the Page 3 P191/22e site.
Another project pursued at the Ludwigshafen site is the development of an electrically heated steam cracker furnace. BASF has signed an agreement with SABIC and Linde to develop and pilot electrically heated steam cracker furnaces.
Antwerp: Aspiration to become first Verbund site to approach net zero in 2030
BASF's Verbund site in Antwerp is the largest chemical production site in Belgium and BASF's second-largest Verbund site after Ludwigshafen. BASF aspires to reduce emissions at the site from 3.8 million metric tons in 2021 to close to net-zero by 2030.
Zhanjiang: Planned as a frontrunner in sustainability from the outset
Zhanjiang is to become BASF's third largest Verbund site. An advanced Verbund concept and the use of renewable energy will play the key role in significantly lowering the site's CO2 emissions compared to a gas-powered petrochemical site. Replacing fossil-fuel energy by electricity from renewable sources is a main lever.
A few days ago, BASF signed a second framework agreement over 25 years with the State Power Investment Corporation Limited (SPIC) under the new renewable energy trading rules in Guangdong province, China, to purchase the renewable Page 4 P191/22e electricity supply for the next phases of the Zhanjiang Verbund site in Guangdong province.
Schwarzheide: Prototype for the transformation at mid-sized sites
In February 2022, BASF Schwarzheide GmbH and enviaM established a joint venture for a solar park that has an expected electricity production of 25-gigawatt hours per year, about 10% of the site's current annual electricity demand. It will be the first major solar power plant in which BASF is directly involved.
Martin Brudermüller, Ph.D., chairman of the Board of Executive Directors of BASF, said, "There is a brutal war raging in Europe with far-reaching consequences for both people and the economy. Nevertheless, we must not lose sight of the greatest global challenge of our time—climate change. Across BASF, we are working intensively to implement a large number of projects to further reduce our CO2 emissions significantly and achieve our ambitious climate targets. By cooperating with suppliers of raw materials we are also taking steps to reduce our product-related emissions. In this way, we are driving forward our transformation and supporting customers in their efforts to reduce emissions in their product portfolios."
Want to know everything going on in flavor & fragrance? Sign up for P&F+'s newsletter. You can also follow along on Instagram and LinkedIn.