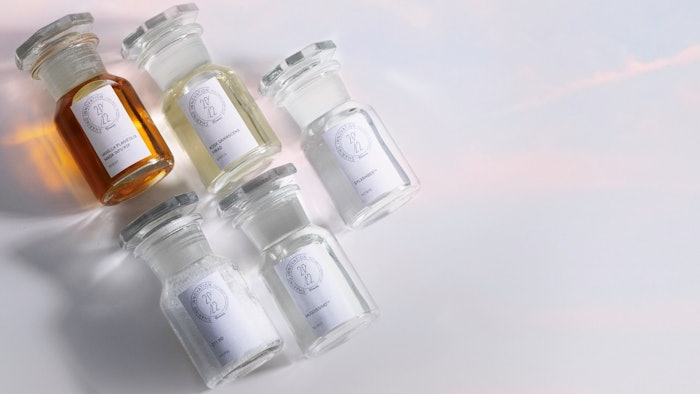 Firmenich has unveiled its new Sharing Innovation 2022 collection of perfumery ingredients. Each year, the company curates a collection of ingredients to in an effort to foster creativity and broaden perfume palettes worldwide.
Related: Firmenich Global President of Perfumery Wins Beauty Industry Award
The   Sharing Innovation 2022 collection includes five ingredients designed to highlight Firmenich's dedication to nature, green science and technology. The company has included three proprietary ingredients previously exclusive to Firmenich: a close-to-nature lily-of-the-valley note that scores high on green chemistry; a 100% renewable ingredient made using biotechnology; and a natural rose formulated by a cold concentration technique. Also inside the collection is a synthetic molecule made from upcycled materials, and finally, a natural ingredient with full traceability through Firmenich's digital application, Path2Farm.
The Sharing Innovation 2022 collection includes the following ingredients:
Synthetics
• Muguissimo: A floral muguet note, created from green synthesis, serving as a lily-of-the-valley ingredient. It offers a natural cyclamen petal effect with watery and anisic undertones. Muguissimo is the latest addition to Firmenich's collection of muguet notes, Beyond Muguet.
• Sylvamber: Offering cedarwood, powder and amber undertones, Sylvamber is designed to add volume and warmth to fragrances.
Biotechnology
• Z11 HD:  A dry, woody note with an amber facet. Its process combines white biotechnology and green chemistry, resulting in a 100% renewable and biodegradable ingredient that ensures a clean and reliable quality with a reduced environmental impact.
Naturals
• Rose Damascena Firad: Floral, rosy, spicy, honey and balsamic. This profile specific to Firad technology is fresh and watery, reminiscent of eau de rose with hints of litchi. Highly concentrated in odorant molecules, this natural rose extract is made from a cold concentration of the water-soluble volatile fractions present in Bulgarian rose water.
• Vanilla Planifolia Madagascar Infusion P2F: Creamy, leathery, woody and animalic, Vanilla Planifolia is said to enhance the gourmand bottom note in floral and amber compositions. It is carefully and responsibly sourced in Madagascar with full traceability through Firmenich's proprietary digital application, Path2Farm. Through farm geo-plotting, farmer profiling and supply chain tracking, this new platform joins the Naturals Together program to offer customers and clients complete access to our ingredients' full chain of custody, from farmer to final product.
The launch of this collection follows Firmenich's announcement of its ambition to be ranked number one in Conscious Perfumery by 2030. Conscious Perfumery brings together nature and science through a responsible and sustainable approach based on innovation and principles of green chemistry. This collection positively reinforces this mission with its renewable and sustainable ingredients, responsibly sourced naturals with fact-based transparency and a positive impact on the planet and its people.
Julien Firmenich, vice president of Product Strategy and Promotion, said, "This year's Sharing Innovation collection is a testament to Firmenich's commitment to green science and positive impact. We are very proud to unveil yet another inspiring collection, with innovative and remarkable ingredients made possible through our cutting-edge research platforms and leading technologies, our responsible sourcing policy and our innovative digital capabilities."
Want to know everything going on in flavor & fragrance? Sign up for P&F+'s newsletter. You can also follow along on Instagram and LinkedIn.