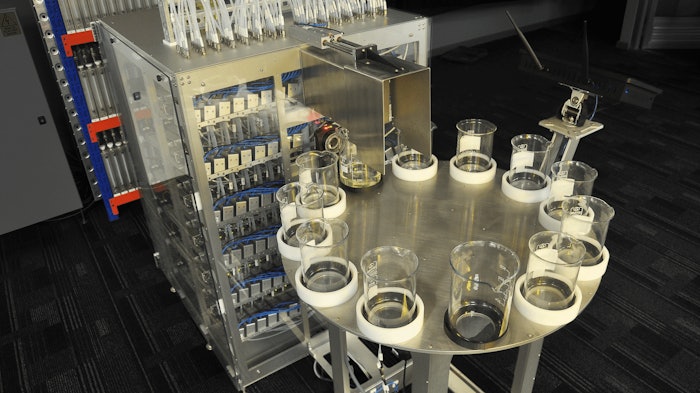 Accurate Dosing Systems (ADS), a South Australian firm that is developing automated technology for the flavor and fragrance industry, is moving to Tonsley Innovation District to further develop "perfume robots" in a new tailored facility on Tonsley's main promenade.
Related: ISIPCA x Yuan Liu International Announce Online Perfumery Course
The custom facility provided by Tonsley will house a showroom, increased office space as well as a welcome experience for existing and future clients.
Construction of Accurate Dosing Systems' new headquarters is expected to be completed by March 2022 and will be located at Lot 101, MAB Eastern Promenade, Tonsley.

The purpose-built robots are designed to accurately measure out thousands of aromatic oils that are used in the creation of formulas for specific flavors and fragrances.
According to a release,  Accurate Dosing Systems is the only F&F dosing robot manufacturer in Australia.
Established four years ago in Lonsdale by Masoud  Bahmai and his two co-founders, Mark Pitcher and Andrew Fotheringham, Accurate Dosing Systems began with a single prototype design for the original Quanta robot and found early success at the 2018 World Perfumery Congress in France. The firm now exports its dosing robots to food and fragrance manufacturers across the world. The robots developed by the Accurate Dosing Systems team are designed to help transform a traditionally labor-intensive industry into one that offers high accuracy, short manufacturing lead times, reduced cross-contamination and a small machine footprint.
Masoud Bahmai, co-founder and managing director of Accurate Dosing Systems, explained the significance of the robot's design, "Unlike the robot designs of some of our international competitors, our Quanta robot is compact, attractive and light—this means it can be assembled in a multitude of spaces, which is part of our commitment to providing flexible and practical dosing solutions. People may not realize that a fine fragrance can contain up to 120 different ingredients, so a superior level of automation is required to measure and dose raw materials in the right quantity while protecting a client's intellectual property and maintaining the highest product standards possible."
Bahmai "Our most high-end robot—called Quanta (pictured)—is the "Ferrari" of our robot range and is able to generate a sample scent or flavor 30 times faster than a conventional dosing robot, allowing formulas to be created in seconds instead of hours. This means that we can help manufacturers batch-produce flavored items and come up with new samples in a significantly condensed timeframe, which enables us to be the first to respond to a client briefing on a new flavor or fragrance and which is, quite simply, a game-changer for the industry as a whole."

Bahmai shared his thoughts on the partnership and forthcoming center, "Having clients come and see us at Tonsley Innovation District will give us a wonderful customer interface, and one that says, "We are part of networked innovation community and we make world-class products." Our Tonsley headquarters will also help us attract and retain talent in engineering and automation, as we are situated alongside global automation firms such as SAGE, Rockwell and ZEISS while also being co-located with Flinders University's innovation hub, which encompasses teaching and research in related industries such as computer science, artificial intelligence, autonomous vehicles, information technology, engineering and mathematics."
Want to know everything going on in flavor & fragrance? Sign up for P&F+'s newsletter. You can also follow along on Instagram and LinkedIn.