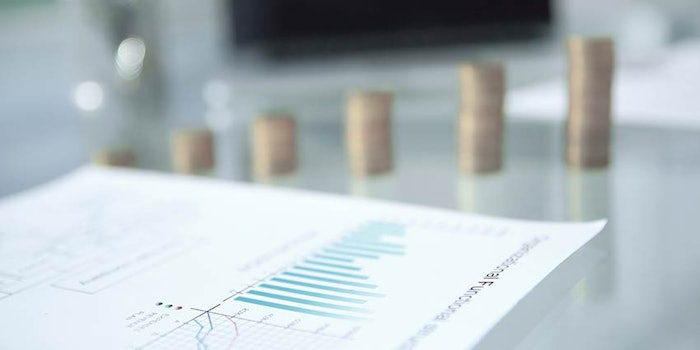 International Flavors & Fragrances Inc. (IFF) has reported its financial results for Q1 2020, ending March 31, 2020. The company's reported net sales totaled $1.35 billion, up 4% over Q1 2019. 
The scent segment saw a 5% increase in reported sales to $517 million, driven by double-digit growth in consumer fragrance and high single digit growth in fragrance ingredients. Declines in fine fragrance were driven by the temporary closure of retail sites due to COVID-19.
The taste segment reported sales of $830.3 million, up 3% over the previous year. Contributing to performance were savory solutions and inclusions, which saw double digit growth, and low single digit growth in flavors and natural products solutions.
Due to COVID-19, the company has experienced significant demand for ingredients solutions (used in consumer products, such as packaged food and disinfection), which represented 85% of its total business in 2019. However, disruptions in consumer access have created weaknesses in fine fragrance and cosmetic actives.
Related: IFF Observes Net Sales Growth in Q4 2019 and Full Year Results
"Our ability to pivot quickly and adapt our daily operations has enabled us to responsibly operate our business while continuing to meet customer demand, despite a few logistics hurdles around the world," said chairman and CEO Andreas Fibig.
"As regulatory restrictions aimed at protecting public health shifted worldwide through the quarter, we have worked through these challenges to realize minimal disruption across our production and supply chain. Protecting the health and safety of our colleagues, especially those still coming to our facilities, continues to be paramount as we navigate the challenges presented by COVID 19."
"We leveraged our mid-single digit sales growth to deliver solid adjusted operating margin expansion in the first quarter. Now more than ever, IFF's broad based exposure across regions, categories and customers positions us to remain resilient through these uncertain times," added executive vice president and CFO Rustom Jilla.
"We are fortunate that the majority of our revenue comes from packaged food, beverage and personal care and hygiene products, where there is relative strength. Having said that, we are not entirely immune as categories such as Fine Fragrances, Cosmetic Actives, Fragrance Ingredients and Food Service are exhibiting challenges and we are seeing additional costs related to COVID-19. It also is clear that in the near-term, global conditions will be extraordinarily volatile and unpredictable, leading us to withdraw our full year financial guidance. We will continue to effectively manage our balance sheet by taking actions to generate strong cash flow, and to maintain ample liquidity even through a prolonged global downturn."
DuPont Nutrition & Biosciences Purpose and Vision
Additionally, IFF announced it would be building upon its previously announced merger between itself and DuPont's Nutrition & Biosciences (N&B) division. The companies shared their guiding purpose and vision, operating model and executive committee for the joint venture.
Guiding Purpose and Vision The combined company formed by IFF and DuPont will operate under the purpose of "Applying science and creativity for a better world." The central vision, the core of its strategies and initiatives, is: "Be the partner for essential solutions."
Operating Model The organization will consist of four divisions: Taste, food and beverage; scent; health & biosciences; and pharma solutions.
Executive Committee and Board of Directors The combined organization's executive committee and board of directors will consist of:
Executive Committee
Andreas Fibig, chairman and CEO
Rustom Jilla, executive vice president, chief financial officer
Matthias Haeni, president, taste, food & beverage
Amy Byrick, president, taste, food & beverage
Nicolas Mirzayantz, president, scent
Simon Herriott, president, health & biosciences
Angela Strzelecki, president, pharma solutions
Greg Yep, executive vice president, global integrated solutions officer
Greg Soutendijk, senior vice president, commercial excellence
Angela Naef, executive vice president, chief research & development officer
Susana Suarez Gonzalez, executive vice president, chief human resources and diversity & inclusion officer
Francisco Fortanet, executive vice president, global operations officer
Vic Verma, executive vice president, chief information officer
Michael DeVeau, senior vice president, chief investor relations & communications officer
Etienne Laurent, senior vice president, finance & corporate strategy
Jennifer Johnson, executive vice president, general counsel
IFF executive vice president and general counsel Anne Chwat will retire from the company in early 2021. Matthias Heinzel, president, N&B will continue to lead the segment for DuPont until the close of the transaction, after which he will pursue other opportunities as a chief executive.
Board of Directors
DuPont executive chairman and CEO Ed Breen will join the board of the combined company as a DuPont designee following the close of the transaction, and will serve as lead independent director beginning June 1, 2021.
Heinzel will be appointed to join the board of directors of IFF following the close of the transaction. Carol A. (John) Davidson will be appointed to joint he board of directors of the future combined company following the close of the transaction.
The transaction is anticipated to close in the first quarter of 2021. The full board of directors will be named prior to the close.
"The past few months have affirmed the essential role our respective businesses play in delivering industry-leading solutions to our partners around the world. Our teams have risen to the challenge in a way that gives me even greater confidence in the potential of IFF and N&B to shape the future of our industry together," said Fibig.
"Our joint Integration Management Office has remained closely focused on developing the plans and structures to bring our combination with N&B to life. We are thrilled to announce the progress that we have made to identify a leadership team comprising the best-of-both organizations and an operating philosophy that builds on our combined deep histories of creativity, innovation and caring for our communities. This is a truly transformative moment for us and one that will present tremendous opportunities for all our stakeholders, including our employees, custome