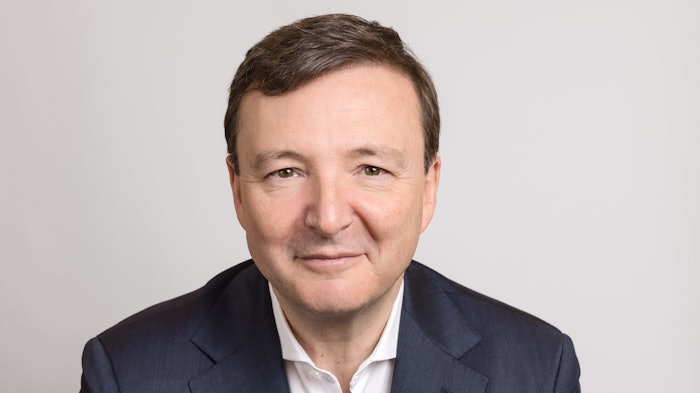 courtesy of dsm-firmenich
Since the announcement of the long awaited official merger of DSM and Firmenich earlier this month, now known as dsm-firmenich, the company has begun announcing the appointments of key position with the latest being Emmanuel Butstraen as the new president of its Perfumery & Beauty business, reporting to co-CEO Dimitri de Vreeze. Butstraen will assume this role as of July 1, 2023 following a comprehensive handover from Ilaria Resta, while retaining his chief integration officer role. 
With Butstraen assuming this new role, Resta will be leaving the company on July 1, 2023 to pursue a CEO position at a prestigious watchmaker company.
Since May 2022, it is said that Butstraen has been playing an instrumental role in successfully driving the merger of dsm-firmenich, and owing to his efforts, all integration planning activities have been set up to be executed across the organization. Supported by a senior team in the company's Integration Management Office, Butstraen will continue overseeing the integration while taking on the global leadership role of Perfumery & Beauty.
Prior to his appointment as chief integration officer, Butstraen served as the president of Taste & Beyond at Firmenich since 2018. Under his leadership, the business underwent a transformative journey, becoming a global innovation partner of choice. He also brings extensive experience in the personal care sector, having previously served as the president of Solvay's Novecare global business unit. Before that, he spent 17 years at BASF, where he held the position of strategy senior vice president of the Agricultural Products division. 
Butstraen holds a degree in Agricultural Engineering and an MBA from the University of Lille, France.  
Geraldine Matchett and Dimitri de Vreeze, co-CEOs of dsm-firmenich, commented, "We are thrilled to announce the appointment of Emmanuel Butstraen as the president of our Perfumery & Beauty business. His profound understanding of our customer base and exceptional leadership skills have consistently yielded remarkable results. With a deep understanding of consumers and a passion for fragrance, personal care and innovation, Emmanuel [Butstraen] is set to further strengthen dsm-firmenich as the partner of choice for our customers, empowering them to enhance and strengthen their brands."