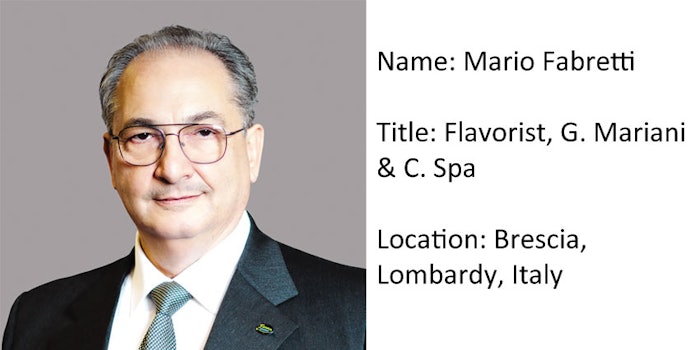 Perfumer & Flavorist+ [P&F+]: What led you to the flavor industry?
Mario Fabretti [MF]: It was not an intentional journey. I was a university student in Perugia, studying natural and biological sciences while working for two companies—one produced soft drinks and the other one spirits. I was involved in production and recipes, which gave me the opportunity to discover the flavor world, and in time, led me to work for Franco Giotti. I had the chance to develop flavors, create relationships with important people within the sector and learn how to operate a gas chromatographer from Carlo Erba. The flavor industry captivated me, and I have been in the industry for over 30 years.
P&F+: Describe yourself in three ingredients.
MF: If I had to choose three elements that I also find in flavorings, I would say curiosity, fantasy and empathy.
It is not possible for me to answer in terms of ingredients because each formula may contain more than 400 different molecules, like oils, infusions of herbs, roots, flowers, etc. A painter might choose among yellow, red or dark colors, a tailor might prefer silk rather than cotton or wool, but we flavorists are a different kind of artist, one that daily chooses and blends hundreds of different notes.
P&F+: Do you have advice for people coming into the flavor field?
MF: The most important advice I can give is to use passion and goodwill—along with some scientific knowledge.
P&F+: Are the types of projects you're working on changing over time? How are the creative demands of the job evolving?
MF: There are indeed new requests; some come from ethical perspectives, others are regarding new combination of tastes. And at the same time, the need for more convenient and accessible products make it necessary to review the recipes.
P&F+: What is the best part of your job?
MF: The best part of my job is obviously when everything goes well. To achieve this aim, it's important to have a good team to collaborate with. Only with the efforts, wisdom and ideas of each person involved can we do a good and satisfying job.
Next Up
Flip to page 16 to find senior perfumer Vince Kuczinski's feature sharing his challenges, wins and fondest memories over the last 45 years in the fragrance industry.
For the full article, please check out the Perfumer & Flavorist+ June 2022 issue.