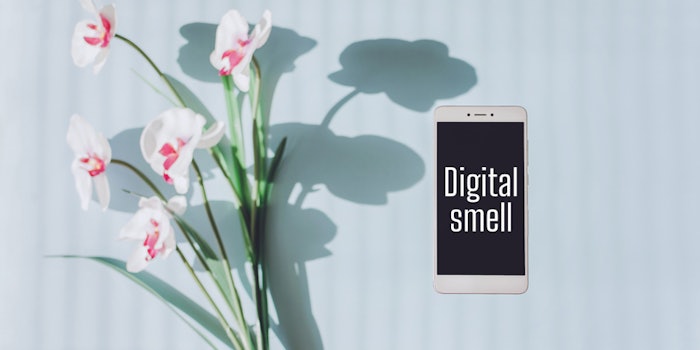 The digital scent technology market is expected to grow from $1 billion in 2021 to $1.5 billion by 2026, at a CAGR of 9.2%, according to a new market research report published by MarketsandMarkets.

Related: Fragrance Sales Trends from NPD Group
The market growth can be attributed to several factors, such as:
Expanding application and advancements in e-nose technologies

Increasing use of e-nose devices for disease diagnostic applications

Emerging R&D activities to invent e-nose to sniff out COVID-19

Rising use of e-nose in food industry for quality assurance in production, storage and display
The usage of digital scent technology products in food and beverages, medical and marketing applications has boosted the smartphones segment, which is expected to grow with the highest CAGR. 
However, e-nose is widely used in the healthcare segment due to an increasing demand for cost-effective, accurate and non-invasive methods of diagnosis. The medical application is set to hold the largest share of the market during the forecasted period.
North America is expected to continue to dominate the digital scent technology market during the forecast period due to the presence of various key players in the region. 
Key companies operating in the market include:
Ams AG (Austria)

Smiths Detection (U.S.)

Alpha MOS SA (France)

AIRSENSE Analytics GmbH (Germany)

ScentSational Technologies (U.S.)

Electronic Sensor Technology (U.S.)

Aromajoin Corporation (Japan)

Scent Sciences Corporation (U.S.)

The eNose Company (The Netherlands)

 Odotech Inc. (Canada)
Want to know everything going on in flavor & fragrance? Sign up for P&F+'s newsletter. You can also follow along on Instagram and LinkedIn.