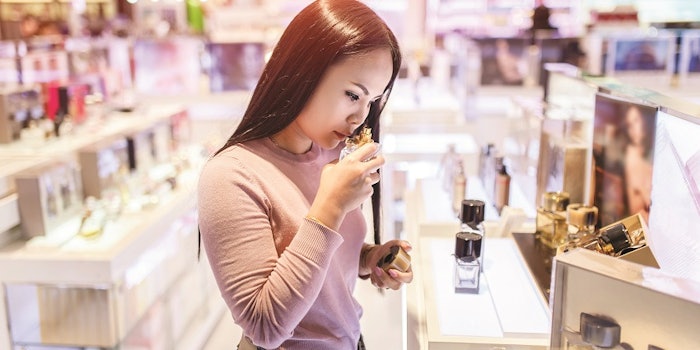 The global fragrances market enjoyed another positive year of growth. In 2017, retail sales grew 5.5%, amounting to $49.3 billion, with a 6.3% compound annual growth rate expected from 2017 to 2022, according to Euromonitor International (see F-1).
Premium Keeps Driving Value Growth in Most Markets
While growth is positive across the category, it is unequally distributed among mass and premium segments (see F-2 and F-3). Across most regions, the premium segment is expected to grow faster than the mass segment, retaining the majority of sales in most markets apart from Latin America and Eastern Europe where the mass market is growing faster, according to Euromonitor. The demand for premium fragrances has bright days ahead, but traditional brands (especially luxury designer brands) will need to adapt to face the growing competition from niche and "indie" players. The fragrance industry is now embracing broader beauty and personal care trends and adapting better to new consumer demands, not only in terms of distribution but also in terms of product offerings.
Back to Simplicity
Unisex and men's fragrances have grown in popularity, especially among women looking to turn away from traditional scents. While there is space to keep developing unisex fragrances in some markets like Latin America or Asia Pacific, in more mature markets, such as North America and Western Europe, what was once niche perfumery is now turning mainstream. Brands such as Byredo, Le Labo or By Killian are examples of this shift. These brands have emerged as disruptors in the industry and have started leaving the "niche" segment as soon as they lost their exclusivity. Acquisition of those brands by bigger companies or equity funds will help driving growth and sales in the long run but sometimes at the cost of the brands' DNA. The industry is now looking into the next generation of disruptors. As consumers become more informed and price sensitive, their consumption patterns evolve. Consumers are no longer keen to purchase an expensive 120ml fragrance bottle that will mean committing to it until the product is finished, leading to smaller pack sizes, usually going up 100ml. Similar to skin care and color cosmetics, consumers are looking to tailor products to their mood, wardrobe and occasions.
The fragrance industry is going back to basics, stripping away unnecessary ingredients to deliver raw, cheaper and tailored products. American brand Ostens recently released five products, which it describes as "preparations," focusing on one ingredient per preparation that can be layered and tailored for and by consumers. The brand Escentric Molecules tapped into this personalization segment in 2006, offering fragrances containing the Iso E Super aroma-molecule, which adapts to the skin of consumers wearing it. Going forward, the industry will keep embracing and exploring the raw aspects of fragrances, which will help establish a sense of uniqueness to consumers with the additional appeal of cleaner ingredients.