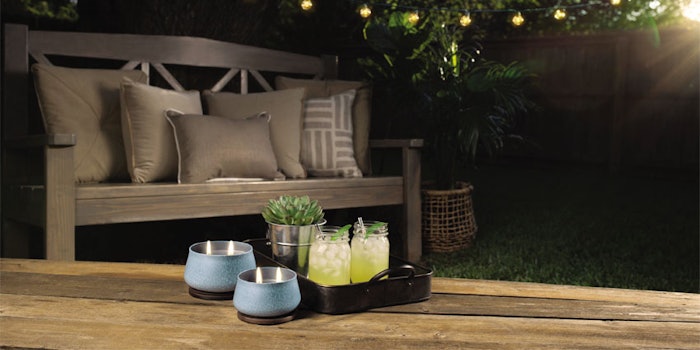 According to Globe Newswire Reportsa, the global candle market size is projected to reach $13.72 billion by 2026, up from $8.38 billion in 2018, at a CAGR of 6.3% between 2019-2026. Perfumer & Flavorist+'sb "Forward Thinking: A Scented Home" article, which appeared in the September 2020 edition, explored candles and air care activity. Candles and air care are seasonal. During spring and summer months, juicy fruits and fragrant florals are mainstays, outdoor candle introductions gain traction and warm scents launch for fall. In addition, comfort food, self-care and collaborations inspire novel candle launches.
Fruits & Flowers
Watermelon and green tea are on-trend ingredients, while themed seasonal candle collections are popular. Two examples being Bath & Body Works' freshly added Basil Green Tea and Iced Dragonfruit Tea, as well as PartyLite's newly released Green Tea, which is described as, "Steamed matcha green tea topped with peppermint leaves muddled with delicate pear blossoms, violet and sheer jasmine petals."
P.F. Candle Co. dropped Watermelon & Chili, a limited-edition fragrance that combines watermelon, summer grass, dried chili and lime. For the summer, PartyLite launched Watermelon, Blueberry Lemonade and Banana Coconut scents. The Banana Coconut description reads, "Sweetened coconut milk, fresh banana and vanilla essence are whipped into a frothy, tropical scent that puts you in a summer state of mind." In addition, PartyLite released White Rose and Cherry Blossom variants.
References:
awww.globenewswire.com/en/news-release/2019/09/18/1917345/0/en/Global-Candle-Market-Will-Reach-Over-USD-13-72-Billion-By-2026-Zion-Market-Research.html
bPage 22; https://perfumerflavorist.texterity.com/perfumerflavorist/september_2020
For the full article, please check out the Perfumer & Flavorist+ September 2021 issue.