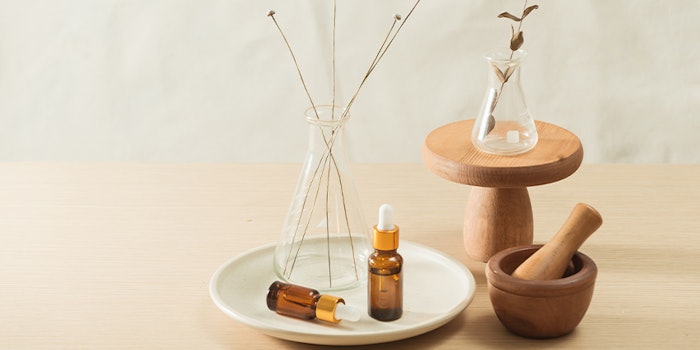 IAL Consultants has released market reports on the Global Markets for Aroma Chemicals and Active Cosmetic Ingredients.
Related: Aromatherapy Market Expected To Grow
The information contained within these reports is based upon a program of interviews throughout the industry.
Aroma Chemicals
The global market for aroma chemicals in 2020 is estimated to reach $5 billion. It additionally is forecasted to grow at a CAGR of 3.8% to $6 billion by 2025.
Terpenoids represent the largest product category, with a share of 31%, followed by benzenoids at 24%. The market for aroma chemicals is concentrated in the European Union, United States and China, with a lower demand in developing markets. 
South America will be the most negatively affected this year, while Asia is expected to fare the best. By 2025, the market in EMEA is expected to reach $1.7 billion; the Americas to reach $1.8 billion; and Asia-Pacific to reach $2.5 billion.
Several trends are reported, the first being regulatory-based, as producers of aroma chemicals are driven by standards and regulations and must constantly check for product impurities. Notably, each year, there are new regulatory bans on certain molecules.
Secondly, the demand for natural aroma chemicals has never been higher, responding to consumer preferences for greener, traceable and sustainable products. The third is the emergence of biotech-based molecules, which are produced by methods akin to fermentation. Other key market drivers include raw material availability and eco-toxicology concerns.
Current leading suppliers in the market include:
Related: Nielsen: Beauty, Hair and Skin Care E-commerce Rise
Active Cosmetic Ingredients
As of 2020, the global market for active cosmetic ingredients is estimated at $3.3 billion. It is forecasted to grow at a CAGR of 3.1% to reach $3.9 billion by 2025. The largest product category is conditioning agents, with a share of 35%, followed by anti-aging ingredients at 22% and UV filters at 17%. 
Due to the pandemic, companies have reined in their R&D activities and expenditures. IAL expects a decline of about 1.7% in the market in 2020, with a muted recovery in 2021 and 2020. By 2025, the market in EMEA is expected to reach $1.4 billion; the Americas, $1.3 billion; and Asia-Pacific, $1.2 billion.
An evident trend in active cosmetic ingredients is that of active lifestyle or holistic beauty, such as products that claim to prepare and protect skin and hair before physical activity or repair after activity. Other trends include personalization/customization of cosmetics, research into the skin microbiome, transparency and brand ethics. Consumers also are looking for transparency and traceability in their skin care ingredients. 
Current leading suppliers in the market include: