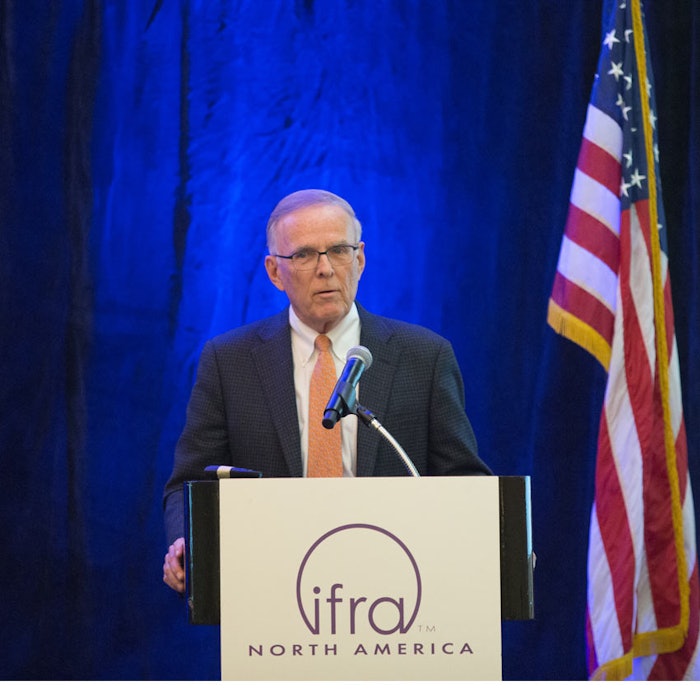 "We're taking care of our industry, and protecting our industry because that's what industry associations should be doing," said Steve Tanner, president, Arylessence, in his chairman's address at the International Fragrance Association North America (IFRA NA) annual business meeting. IFRA NA members gathered on November 14, 2017, at Hilton Hasbrouck in Hasbrouck Heights, New Jersey.
The meeting, led by IFRA NA president, Farah Ahmed, explored pertinent issues facing the fragrance industry, including federal policy updates and accuracy in public health research, in which speakers shared an overarching view of U.S. regulatory and safety testing reform to help the fragrance industry strengthen its advocacy in science and creativity. Additionally, the meeting also explored the economic impact of the fragrance industry, followed by an interactive presentation on strengthening connections between peers and decision-makers in the workplace.
"It's all about the beautifully fragranced products we create together that takes us to the role fragrance plays in making products better…more beautiful, cleaner, safer, more enjoyable." - Steve Tanner, president of Arylessence
Along with voting for new and existing board members, Bob Weinstein, president, ingredients, Robertet will succeed Tanner as chairman in the upcoming year. "One word that comes to mind [about Steve] is [his] commitment [both to the industry and his company]. Steve has been on the board for 15 years. He helped lead the transition from one president CEO to the next," Weinstein said.
Most recently, IFRA NA worked together with trade associations, including the Personal Care Products Council and American Chemical Council, along with policymakers to prevent adding coumarin to California's Prop 65 list. "The issues affecting the fragrance industry," said Tanner, "are the same issues that will be affecting those who buy those products." Over the last year, IFRA NA has focused its efforts on recruiting consumer products companies SCJ, Revlon, Chanel, Johnson & Johnson and Estée Lauder as associate members.
"It's all about the beautifully fragranced products we create together that takes us to the role fragrance plays in making products better…more beautiful, cleaner, safer, more enjoyable…that's a message that has impact," Tanner concluded in his speech.
Fragrance Makes Connections
IFRA NA's goals are based on three pillars: advocacy, sound science, creative artistry. Last year, IFRA NA relaunched its strategy as a means to build trust and enhance the reputation of the fragrance industry among key constituencies and establish the organization as the most trusted, respected voice and advocate for the industry. "This organization is a member-driven organization, and your support, insights and direction all come into play for each and every one of us," Ahmed said.
Amanda Nguyen, director of government affairs, discussed three main areas of advancements within the organization: The Cleaning Product Right to Know Act (California SB 258), the successful defense of coumarin and reaching decision makers at the Environmental Protection Agency (EPA).
The common thread behind each of these advancements is teamwork and research. California SB 258 was a group effort between IFRA NA, trade associations, companies and IFRA NA's transparency report to ultimately use confidential business information (CBI) as a claim against the act. "We knew it wasn't [realistic] for the industry to pass ingredient disclosure for cleaning products in California," Nguyen said. "The act prevented CBI protection and thresholds, as well as required pictogram requirements and problematic language when disclosing contaminants."
The successful ingredient defense of coumarin, a widely used ingredient, was top of mind in the global industry and needed a scientific and industry perspective, Nguyen explained. Ahmed and her team defended the material to preserve consumer choice, creative artistry, and the industry. "It's a great example of how [IFRA NA's] strategic plan was put into action," said Nguyen. "It was such a key material in the industry and got a buy-in from the board to shift it over to an interest party fund (Arylessence, Berje, Chanel, Firenich, Givaudan, IFF, P&G, Robertet, SCJ, Symrise, Takasago); as well as coordination with the Research Institute of Fragrance Materials (RIFM)."
The EPA are the gatekeepers overseeing our materials, particularly in the new chemical space, explained Nguyen. With initiatives like Lobby Day on October 26 in Washington D.C., along with allied associations and companies, the organization worked together to organize high-level meetings with the EPA. IFRA NA worked with board members to educate the EPA on unique aspects of the fragrance industry and its importance in differentiating themselves from the chemical industry. "Thankfully, we had a resounding reaction from the EPA and clear follow-up…It's a big step forward for the industry since the last year," Ahmed said.
Update on Federal Policy Issues
"There's an inordinate amount of dysfunction in Washington," said Dan Renberg, J.D., Arent Fox LLP. He explained how the legislative process has been hampered by many of the Trump administration's reforms, which has been a challenge, yet more of an incentive for the fragrance industry to push harder for its own agenda. "Nobody has a sense a stability [right now]," explained Renberg. "Congressional approval is up 4% to 13% from 2009."
Renberg highlighted tax reform to be one of the main issues on IFRA NA's agenda. This includes lowering corporate rates in Congress to generate more economic activity and working with non-profits that will be at risk of being shut down due to these reforms.
"I had no idea what regulations [the fragrance industry] is involved in," said Former senator Byron Dorgan, Arent Fox LLP, "It's important that those who write regulations have a sensibility of what's achievable and what's not, and protecting the consumer." Dorgan added that he believed in rewarding companies that manufacture in the U.S.
The time frame for legislation is much faster than agency rule-making. In order for the fragrance industry to play a robust and active role in these decisions, Renberg encourages companies take a nimble approach and respond quickly to legislative proposals; as well as voicing concern in regards to safety. "Your industry can achieve great success with involvement with these agencies, [so] identify what those issues are"
Renberg added, "We've worked pretty hard with the advocacy day to raise awareness, but there's no substitute for members of Congress to hear from their constituents. You really need to show that it's not about company X or company Y, but that it's a network of communities that can make a difference."
Defining an Industry: Establishing the U.S. Fragrance Industry Narrative
How is the fragrance industry defined? IFRA NA worked with KPMG to prepare an analysis to quantify the economic contributions of the US fragrance industry and its value chain to the US economy. "We are in a new era of non-profit promotion, advocacy and education," said Stephen Sibert, founder, Sibert Advisory Services, who co-presented alongside Oommen Thomas, Ph.D., managing director of KPMG.
The first part of the analysis provided background of the industry itself, along with key drivers, including wellness trends, the niche fragrance market—which is growing at a faster rate than the commodity market—and R&D. It was interesting to note the extensive role of R&D within companies, which makes up 16% of revenue.
The analysis also looked at the wholesale sector and how much of it is attributable to fragrance. "It's important to note the multiple layers in which the product works its way through the industry," explained Thomas.
The analysis implemented the North American Industry Classification System (NAICS), a standard used by federal statistical agencies that look at economic activity to classify business establishments.
The analysis found that in terms of economic output, the fragrance industry has contributed $40.6 billion with 134,000 jobs and $8.7 billion in annual labor income. The total economic output is $109.6 billion. Additionally, the fragrance industry has contributed a total of $11.6 billion in tax revenue in 2016. "In comparison to the US gross domestic product (GDP)," Thomas said, "The fragrance industry makes a significant impact."
Campaign for Accuracy in Public Health Research
The issue facing the hazard list is its method of classification, explains David Fischer, M.P.H., J.D., senior director of the American Chemistry Council. He cited the International Agency for Research on Cancer's (IARC) monographs program, which is a well-known hazard-classification list, as an area of opportunity for the industry to provide classification methods based on risk, rather than a hazard.
One of the problems with the monographs program is its lack of evaluating the actual risk of a substance under a real-world circumstance. "The banning of glyphosate is based on hazard instead of risk," Fischer explained.
He also noted a lack of transparency between the IARC and the public, an omission of relevant data and conflicting evidence and unclear communication as gaps in the monographs' standards. In response to an unstable regulatory environment, paired with discrepancies in identifying hazardous materials, Fischer introduced the Campaign for Accuracy in Public Health Research (CAPHR) led by the American Chemistry Council.
"Through clear communication and group effort, it's possible to continue moving the fragrance industry to a safer, more innovative and creative space."
Along with improving monographs releases, the CAPHR intends to consider a substance's risk, require reliance on the weight of evidence, establish standard criteria for selecting studies, increase transparency and utilize input from stakeholders, strengthen conflicts of interest protections and educating policymakers and the public.
Versatility: How to Make Better Connections for Better Outcomes
The meeting wrapped with an interactive presentation by Francie Dalton, founder of Dalton Alliances, a C-level consultancy specializing in enhancing connections in the workplace. Dalton identified eight personality archetypes in the workplace. Based on the skillset of these eight personalities (i.e. commander, drifter, avoider, achiever, etc.), Dalton explained that each type offers invaluable assets to the workplace when their behaviors are optimized.
A colleague may appear to have more of the drifter qualities where they appear to have a lack of structure and orderliness, but these personalities are often the most innovative in a company.
In sum, Dalton encouraged audience members to find the strengths of their colleagues and decision-makers as a way to strengthen connections.
On an industry level, this message rang loud and clear: through clear communication and group effort, it's possible to continue moving the fragrance industry to a safer, more innovative and creative space.