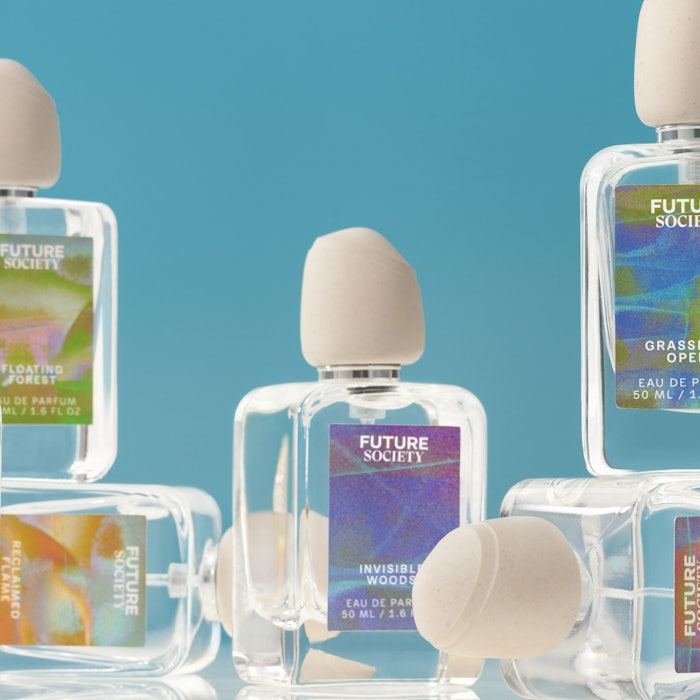 Arcaea has launched Future Society, a fragrance brand that presents a proof-of-concept for the company's biotech platform. 
The brand's debut range, the Scent Surrection Collection, comprises six scents engineered around the DNA sequences of extinct flowers, effectively "resurrecting" lost smells.
The sequencing allowed Arcaea's researchers to "understand what scent molecules these flowers may have once produced." That information was then shared with the collection's perfumers, including Jérome Epinette (Robertet), Daniela Andrier (Givaudan) and Olivia Jan (Givaudan), who interpreted the profiles with contemporary aromatic materials.
Future Society's fragrances retail for $98 each (50 ml) at WeAreFutureSociety.com, Nordstrom.com and in 20 Nordstrom doors. Discovery kits featuring all six fragrances (2 ml each) retail for $35 exclusively on WeAreFutureSociety.com.
Arcaea also recently launched ScentArc, "a prebiotic nutrient blend designed to biologically shift scent in a natural and precise manner without masking smells, killing microbes or blocking sweat."
"Fragrance has always been rooted in powerful storytelling and sensory experiences," said Jasmina Aganovic, CEO of Arcaea. "We are excited to show how biology can create new stories and product experiences. Science is about more than clinical studies, it also represents new creative tools. Each of these fragrances will transport you to another time and place which would not be possible without the groundbreaking science."