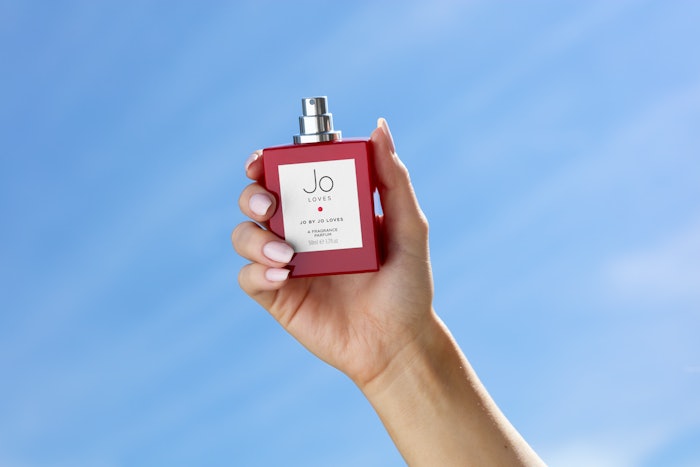 Scentbird is collaborating with Jo Loves, by U.K. perfume artist, Jo Malone, to make the brand's fragrances available for the first time on a subscription service company. 
Scentbird will allow customers to discover 8 ml samples of the Jo Malone-crafted collection on a monthly basis or purchase the full-size bottle of a scent.
Fragrances available: 
Jo by Jo Loves: Encapsulates sparkling notes of grapefruit, bitter orange, lime and spearmint sitting on a bed of guaiac wood, cedarwood and vetiver with a lingering ribbon of hedione and black pepper.
Mango Thai Lime: Inspired from Thailand, it features ripe golden mango served with lime and black pepper to create a combination of sweet, sharp and zesty flavors.
White Roses & Lemon Leaves: Blends porcelain white norma jean rose with subtle strands of peppered citrus. 
Pomelo: The grapefruit-infused citrus is sharp, refreshing and energizing.
Ebony & Cassis: Combines the sharp sweetness of perfectly ripened blackberries and cassis with the warmth and depth of rich nutmeg, myrrh and dates. (Available August 8, 2023)
Golden Gardenia:  This fragrance celebrates the many facets of what makes us unique. It is the confidence we exude from staying true to ourselves and bringing our best to whatever we do. (Available August 8, 2023)
A Fragrance Discovery Set: Features seven of Jo Loves' best-selling fragrances. (Available August 8, 2023)
Founder and creative director of Jo Loves, Jo Malone CBE, said, "Throughout my life, I have created fragrances that have the power to evoke memories and create connections through scent. My vision has always been to change the world through the incredible power of fragrance. I am excited to partner with Scentbird to bring my Jo Loves fragrances to the U.S. market."
Mariya Nurislamova, CEO of Scentbird, said, "We are committed to providing our members and customers with the most desirable fragrances. With the introduction of Jo Loves, we aim to offer customers a chance to delve into its rich variety of scents and experience fragrances from a legendary perfume artist that's truly one of a kind."