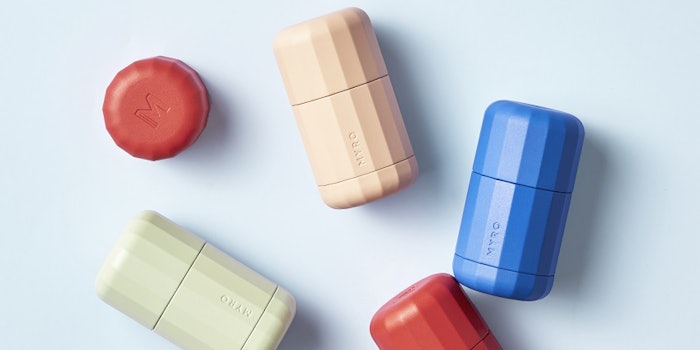 Personal care brand Myro has launched its line of subscription-based refillable deodorants. 
The line of deodorants are all naturally formulated and contain no parabens, phthalates, triclosan, propylene glycol, TEA, DEA, SLS, talc, baking soda, artificial colors or any synthetic fragrances. At launch, the brand will offer five scents that include Solar Flare (orange, juniper, sunflower), Big Dipper (bergamot, lavender, vetiver), Cabin No. 5 (vetiver, patchouli, geranium), Pillow Talk (violet leaf, ylang ylang, wild amyris) and Chill Wave (cucumber, jasmine, spearmint).
"In looking holistically at the deodorant category, things have been very stagnant," said CEO and founder, Greg Laptevsky. "We thought this was the right time to disrupt the category and give daily routines their due. When it comes to body care products, our customers set the bar high, so we had to deliver on all fronts. With high-end, yet environmentally-friendly packaging, elevated, gender-inclusive scents and a unique direct-to-consumer model, we aim to raise the bar higher."
As part of the subscription to Myro, customers receive a starter kit that features a deodorant pod and a refillable deodorant case. Quarterly, Myro will send refill pods in a pack of three and allows customers to cancel, pause or switch scents.
"Our core customers are social creatures who live out loud and want to project their values. No matter what they're doing, their lives are fully immersed in digital culture," said Laptevsky. "Subscription experiences are part of a modern lifestyle that includes everything from organic meals to delivery apps, and from boxed water to boxed mattresses. So why not deodorant?"