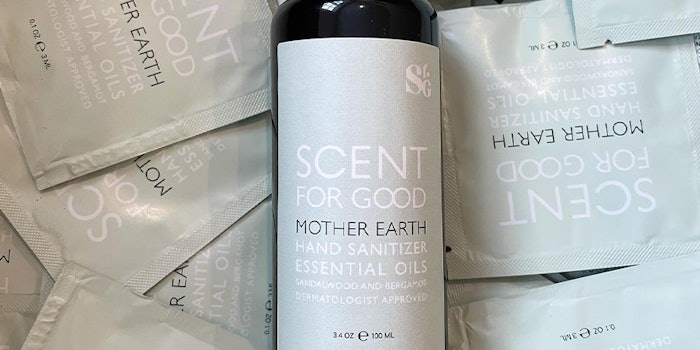 Scent For Good, created by the founders of 12.29, has launched its brand with the debut of its first product: Mother Earth Hand Sanitizer. 
Related: Solutions Parfum Launches Bath Line Designed to Reduce Plastic Waste
The Mother Earth Hand Sanitizer is compounded with a dermatologist approved gel-based formula and contains 60% ethyl alcohol.
It is formulated with essential oils of sandalwood, bergamot lemon, iris flower, amber resin and tonka bean.
A 100 ml bottle of the hand sanitizer retails for $30 with a 200 ml and 60 ml travel size, available soon.
The brand has also announced an upcoming product launch: Inner Peace Mask Spray. The spray is formulated with essential oils of fresh amber and clean musk said to ease the mind and help breathe easy.
Dawn Goldworm, co-founder said, "As a professional nose and olfactive expert, I have dedicated the past twenty years to learn the craft of perfumery, the insights behind consumer behavior and the neuroscience responsible for our sense of smell. All of this expertise has led me to create Scent for Good…a company designed to use essential oil formulations to protect, heal and bring joy to our everyday lives. I have worked with the biggest names and brands in the world and now I want to extend my passion and commitment to my community and to humankind everywhere."
Samantha Goldworm, co-founder said, "Throughout my career as a consumer insights global market lead, I found success by asking, "Why consumers act, buy, engage and trust," in brands. Working with Fortune 500's most profitable brands (L'Oréal, American Express, Unilever, Kraft) and then founding my first company 12.29, the premier olfactive branding company, I learned how to engage brand loyalty using all of our senses. Today, with a continued passion for consumer research and a stark realization that while I am able to assist brands towards customer loyalty, I would rather assist companies to do good in the world. With Scent for Good, I am fulfilling my desire to create more care, compassion and community."
Raj Aggarwal, co-founder, said, "A physician executive leader with a passion to transform clinical care delivery across complex academic and community health systems, a front-line surgeon in active clinical practice, a Ph.D. scientist with expertise in virtual reality and robotic systems, aligned with experience leading venture, strategic, research and commercial partnership deals for health systems and external parties. My journey to significance is focused to translate the scientific basis of new technologies to real-world impact, for patients, their families and our healthcare providers, building a better society for all our better selves."
Want to know everything going on in flavor & fragrance? Sign up for P&F+'s newsletter. You can also follow along on Instagram and LinkedIn.