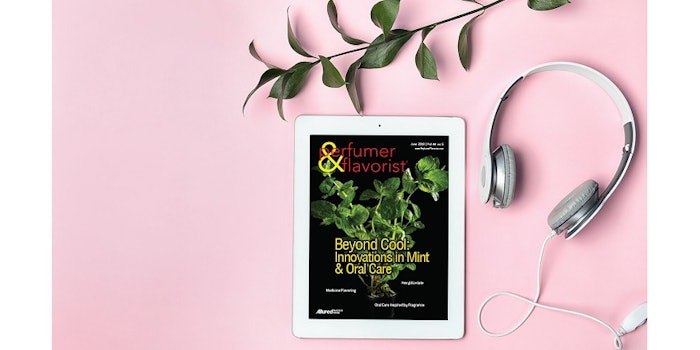 In the June issue of Perfumer & Flavorist magazine, we take a fresh look at the mint market and how this cherished ingredient is still being sought after for its value to the oral care market.
Available in a convenient, easy-to-read digital format, Perfumer & Flavorist's digital edition provides industry and technical insight to the flavor and fragrance industries. Some of the article that you might have missed in the June 2019 issue of Perfumer & Flavorist include:
Synergizing Flavor and Oral Care Innovation for Whole Mouth Health. Utilizing novel cool technologies and stable raw materials like mint oils, flavorists are able to create oral care flavors that promote oral health and provide a pleasant sensory experience.
Sweet Solutions for Medicine Flavoring. As natural flavors and digital technologies push flavoring for medication forward, the flavorist must continue to address bitterness in base ingredients and create innovative, market-ready taste solutions.
Oral Care – It's Not Just About the Cavities. Addressing functional oral care flavors means addressing consumers' demands to feel good and do good.
Delivered monthly, the digital edition of Perfumer & Flavorist is the quickest and easiest way to stay on top of all the flavor and fragrance industry news.