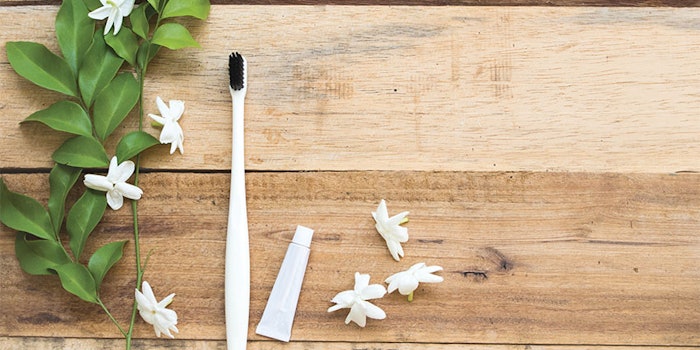 As consumer trends continue toward natural, sustainable and better-for-you products, the oral care industry has seen some recent, game-changing newcomers. While natural, organic, fluoride-free and alternative toothpastes have been around for quite some time, the recent surge in eco-consciousness has led to the revitalization of some archaic forms of oral care and the development of a totally new type of toothpaste.
Natural
One of the oldest and most well-known natural toothpaste brands is Tom's of Maine. In fact, the company claims it was the first natural toothpaste on the U.S. market in 1975a. Today, the company has an extensive offering of over 40 natural, cruelty-free, oral care products that contain no artificial flavors, fragrances, colors or preservatives. This includes a line of mouthwashes and a children's toothpaste line which features flavors like Silly Strawberry, Outrageous Orange Mango and Fruitiliciousb. Dr. Bronner's, perhaps most well-known for its castile soaps, offers a line of all-in-one, cruelty-free, vegan toothpastes that claim 70% organic materials. The all-in-one toothpaste is made with organic coconut flour and oil, as well as organic aloe. The line features natural anise, cinnamon, peppermint and spearmint flavors with no added sweetenersc. Emerging personal care brand Native offers both fluoride and fluoride-free versions of their sulfate-, paraben- and triclosan-free, Wild Mint flavored toothpasted.
In addition to personal and home care brands, a number of dedicated natural oral care brands have made their way onto the scene such as Risewell and Boka. Both brands' toothpaste options utilize natural hydroxyapatite and are free of fluoride and parabens. The two brands also claim that their products strengthen and restore tooth enamel. They have only one flavor each: Risewell's Wild Mint flavor is achieved with natural essential oils and Boka's Ela Mint Toothpaste has a flavor profile of mint, green tea and cardamome,f. 
Footnote: 
awww.tomsofmaine.com/the-backstory
bwww.tomsofmaine.com/products/oral-care
chttps://shop.drbronner.com/toothpaste
dwww.nativecos.com/products/charcoal-nf-toothpaste
ewww.nativecos.com/products/charcoal-nf-toothpaste
fwww.boka.com/products/ela-mint-toothpaste