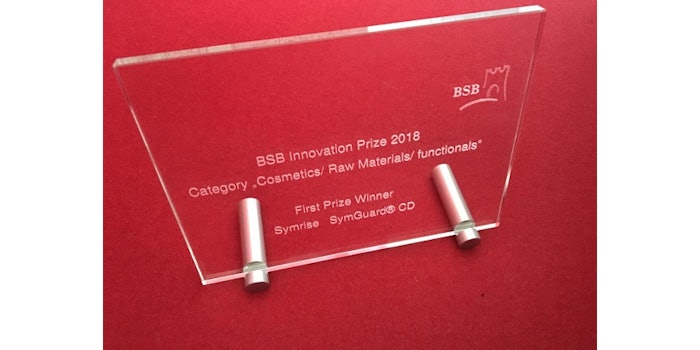 Two Symrise developments have been awarded the BSB Innovation Prize.
Multifunctional active SymGuard CD received first place in the category of "Most Innovative Raw Materials—Functionals." SymGuard CD serves as a fast-acting antibacterial ingredient and protects the cosmetic product and skin of the consumer in applications such as personal wash, hand gels, deodorants and oral care.
"Symrise sees itself as an innovation leader and takes comprehensive measures to keep its impact on the environment as minimal as possible," said Florian Genrich, senior global product manager of the micro protection category in the cosmetic ingredients division. "When we develop an idea, we show just how deeply nature, the environment, and sustainable processes and resources are embedded into the mentality of our company. This enables us to fulfill the desires of many of our customers, and we are proud to have achieved this with SymGuard® CD that respects nature by being biodegradable."
Related: 2018 Leaderboard: Symrise Commits to Biodiversity
SymControlTM Care, an active ingredient extracted from Mediterranean green microalga, was awarded second place in the category of "Most Innovative Raw Materials—Actives." It makes skin look less oily, calms the skin and strengthens the barrier. It is appropriate for cosmetic products catering to oily yet sensitive skin types.
Marielle Le Maire, global category director, actives in the cosmetic ingredients division accepted the award, noting: "Our research focusses on providing natural active ingredients that allow our customers to fulfill special consumer needs. The area of biotechnology, in particular, offers tremendous potential for innovation for natural ingredients. The prize shows that Symrise is making crucial headway in this discipline."
The BSB Innovation Awards were held in Amsterdam.