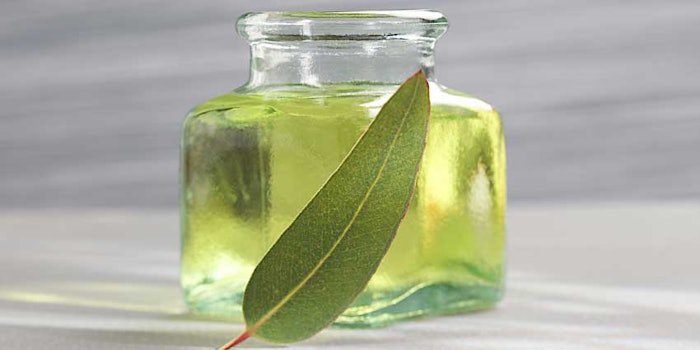 While native to Australia, eucalyptus oil is used internationally and two leading drivers of this market are the cosmetics and perfume industries.
The two industries utilize cineole-based eucalyptus oil, which is a colorless liquid with a woody-sweet scent and comes in a variety of species. The leaves of selected species are steam distilled and extracted for eucalyptus oil.
The benefits include immunity stimulation, respiratory circulation improvement, antioxidant protection and lower blood pressure. Additionally, eucalyptus oil is used as an antiseptic, as an expectorant to loosen coughs and in vaporizer fluids.
Utilizing Eucalyptus Oil
The global eucalyptus oil market is expected to increase significantly with its application as an ingredient in dietary supplements, capsules and more, which applies to pharmaceuticals, cosmetics, food products, fragrances and industrial uses.
According to Transparency Market Research, "The eucalyptus oil market is segmented on the basis of type such as Eucalyptus globulus, Eucalyptus kochii and Eucalyptus polybractea. Eucalyptus globulus is dominating the market whereas Eucalyptus kochii and Eucalyptus polybractea contains cineole content ranging from 85-90%, which is higher as compared to other oils and is widely used in various applications globally."
International Production
Asia Pacific followed by Latin America are the most dominant areas with the eucalyptus oil market.
Produced mainly in Portugal, Spain, South Africa, Australia, Brazil and Chile, the global eucalyptus oil goes beyond these countries. Regions the eucalyptus oil market covers includes:
North America: U.S. and Canada
Latin America: Mexico, Brazil, Peru, Chile and more
Western Europe: Germany, U.K., France, Spain, Italy, Nordic countries, Belgium, Netherlands and Luxembourg
Eastern Europe: Poland and Russia
Asia Pacific: China, India, Japan, ASEAN, Australia and New Zealand
Middle East and Africa: GCC, Southern Africa and Northern Africa