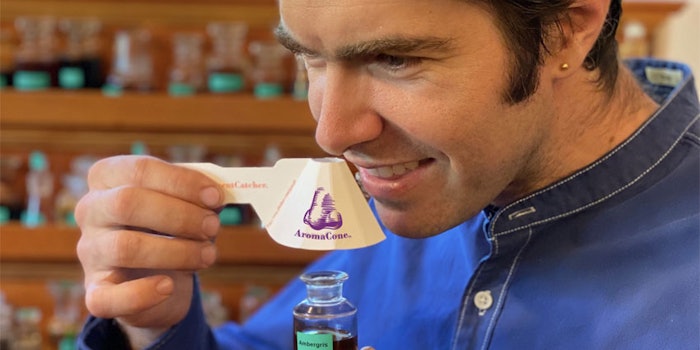 Aftelier's newly launched ScentCatcher AromaCone is a scent amplifier that acts as a magnifying glass for the nose. This device focuses the aromas under it and creates a denser stream of odor molecules.
Related: Ford Develops Gasoline-Inspired Fragrance
The AromaCone is also a contact-free smelling experience. It can provide safe smelling of aromas for entertainment, research, educational, manufacturing, quality control, medical, forensic, culinary, religious or diagnostic purposes, in environments such as retail stores, restaurants, schools, movie theaters, music concerts, museums, botanical gardens and factories. It is used by every visitor to the Aftel Archive of Curious Scents.
AromaCones are sold folded flat in lots of 100 cones. The Aftel Archive of Curious Scents will be reopening on July 31 after being closed since March of last year.