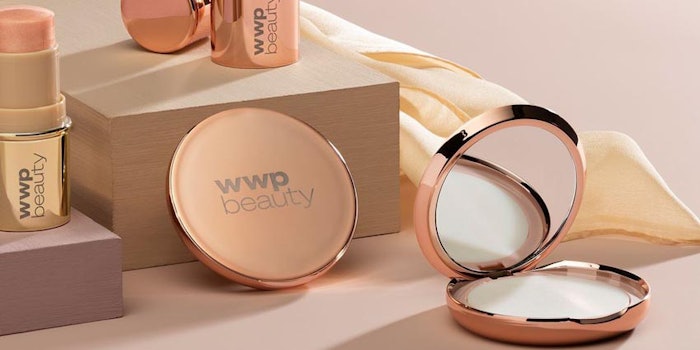 In February 2021, WWP Beauty partnered with Scentinvent Technologies to launch The Essence Collection—portable fragrances in solid formats, specialized for on-the-go use. These fragrances are packaged in WWP Beauty's new delivery systems and offer a sensorial experience with the ability to adjust or add color, sparkle, shine or shimmer.
The proprietary formulation is the first solid fragrance format on the market to combine fragrance with color and ingredients that are good for the skin, and that are 100% alcohol free, per WWP.
Related: Musa Dias Named WWP Beauty's Global Chief Marketing Officer
P&F+ connected with WWP Beauty's CEO Josh Kirschbaum to discuss how the technology came about, how it works and what this new tech means for the future of the market.
Perfumer & Flavorist+ [P&F+]: Could you touch on how the new technology came about?
Josh Kirschbaum [JK]: Abby [Wallach] and Caroline [Fabrigas] [founders of Scentinvent] have been really perfecting this formulation. We believe that their vision has tremendous potential to disrupt the fragrance market. 
I think we've seen unbelievable technology in skin care and in color and hair care with disruptive technology on trend—but the fragrance market has been that same old glass bottle that sits on your grandma's shelf for decades. The consumer is desperately in need for something truly unique and innovative to her. 
Scentinvent Technologies' partnership with WWP Beauty is allowing for brands to leverage the unbelievable unique technology that Scentinvent has brought to market and commercialized, which allows for fragrance to be [paired with] skin-loving ingredients … It's portable, playful and on-the-go. Imagine carrying a fragrance that is as mobile as lipstick or mascara. 
The technology, for the first time ever in the fragrance market, allows you to play with texture, color and input your own fragrance. Scentinvent's formulation, combined with WWP packaging, is really the power behind The Essence Collection. 
P&F+: How long has this been in the making? What are the benefits for consumers and fragrance companies?
JK: Scentivent Technologies has been perfecting this formulation for many many years. They finally got through testing to make it commercially ready and something that they're proud to put their name behind. Their vision was to leverage WWP Beauty's vast landscape of brand partner relationships. 
We've been marketing this technology to all of our 1,000-plus brand partners and really allowing them an easy entry way into the fragrance space—if they aren't there already. If they are, we try to make sure they see that this is a space that is ready for a disruption—especially since the emergence and consumer behavior of Gen Z. 
This is an industry that's been ready for a disruption for many years; that glass bottle certainly does not speak to the new consumer anymore. They are ready for something customizable for the color, fragrance and texture that they like, as well as skin-loving ingredients. These [Essence Collection] products are proudly alcohol-free, mineral oil-free, paraben-free, sulfate-free, never tested on animals and formaldehyde-free. 
P&F+: The fragrance market is seeing an uptick in better-for-you trends as well as a focus on sustainable ingredients and packaging. Where does The Essence Collection fit into the post-COVID world and fragrance market?
JK: You hear a lot about disruptive and on-trend technology in the skin care and hair care markets, but you rarely hear about that next fragrance technology that is truly on-trend. That's how we view trends at WWP Beauty, specifically around COVID and the post-COVID world. 
We believe that COVID didn't define new trends; it accelerated trends that were already in the marketplace. We're leaning hard on wellness and self-care. We believe that 2021 and the post-COVID environment is going to be about how the consumer treats themselves with the products that they want to bring out the best in them. This fragragrance technology answers all of the questions about wellness and self-care. 
Another important element to The Essence Collection is WWP Beauty's eco-friendly sustainable story using post-consumer recycled material. That marriage between clean ingredients from Scentivent along with WWP Beauty packaging  is what really drives a lot of that momentum for this collection, and allows for brands to define their own fragrance inside of this technology. 
The legacy historical fragrance experience was two, three spritzes of alcohol on your body in the morning or before you went out to dinner in the evening—but wouldn't it be amazing if you had something the size of a lipstick that you could put on your wrist or neck that you know is clean, that you can apply at your own comfort level? 
People will say to you, "Look at that color or scent, it's really super unique." We're excited about the versatility of this technology.
Want to know everything going on in flavor & fragrance? Sign up for P&F+'s newsletter. You can also follow along on Instagram and LinkedIn.