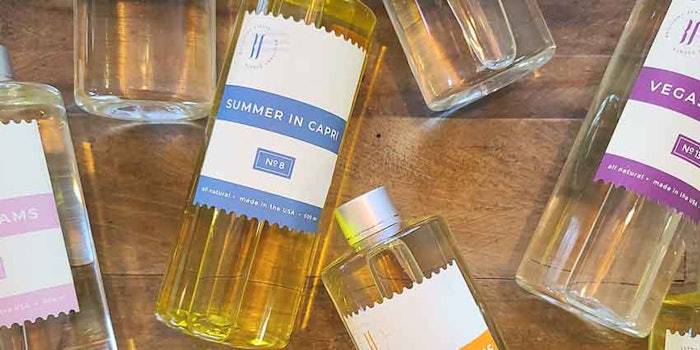 Over the last year, the world has had to adjust to a new normal due to the COVID-19 pandemic. Whether that be virtual learning, working from home or finding new ways to make time for wellness, which can prove to be difficult in a time of quarantine. With a mission to amplify health benefits and offer an escape through scent, Brilliant Scents has launched a fragrance line and home system.
Utilizing cold air diffusion technology, the company's scenting systems are portable and can be installed into any HVAC system in both residential and small business atmospheres. Brilliant Scents' all-natural fragrances are designed to provide health and emotional benefits. The fragrances come in two collections: the Hotel Series and the Destination Series. The Hotel Series is inspired by the world's top resorts, while the Destination Series mimics scents from international travels like Bora Bora Bliss and Marrakesh Magic.
Perfumer & Flavorist+ [P&F+]: Could you touch on the technology that went into creating this system? 
Eddie Betz [EB]: The Brilliant Scents LX3000 and LX6000, as well as the accompanying fragrance oils, are designed to be luxury scenting technology. Our fragrance systems utilize cold-air nebulization, rather than heat or evaporation, to create an ultra-dry mist of nanoparticles from our fragrance oil. This ensures that our oils will never create residue and will disperse an even and consistent scent throughout your space. With luxury and elegance in mind, we engineered our machines to be sleek, durable and use only premium parts. By working closely with our engineers, we offer a system that outperforms our competitors in area coverage, consistency and ease of use.
P&F+: Was this idea in the works prior to COVID-19? How long did the process take from inception to creation?
EB: Brilliant Scents is the result of two years of manufacturing after a lifetime as a passion-project. Our interest in the fragrance space led to our research and understanding of both the industry and the shortcomings of the current offerings. We wanted something better and set out to manufacture what we dreamed was possible. We began our engineering process in 2019, and after a year, had perfected our machines to the specs and features we wanted. We have since solidified our models to what we offer today.
P&F+: Please discuss the benefits of the fragrance collections. Beyond smelling good, what does Brilliant Scents' fragrances offer consumers? 
EB: Companies are becoming increasingly aware of the benefits associated with a fragrance's powerful emotional connection. When used effectively, retailers can use scent to trigger emotions, enrich brand identity and motivate purchases. Customers using our products for their homes will engage in the same lifestyle and emotional connections when paired with a fragrance which we offer that they feel will aesthetically meet their home's ambiance.
The Destination Series offers fragrances inspired by the world's top resorts, bringing their fragrance tones together to transport you back to your greatest memories.


The Spa Series uses fragrances that naturally relax and calm the mind, bringing tranquility and harmony to your home or space.


The Anthology Series is a masterpiece in storytelling that mixes myths, tales and legends with fragrance to give a true experience to the story.
Our future fragrance collections will continue the trend of leading the space in fragrance blends and imagination.
P&F+: What does the future look like for this new avenue of Brilliant Scents? How will it evolve? 
EB: If used in the right way, scent marketing can build into and enrich a brand's universe, as the in-store environment becomes a highly curated and immersive experience for the shopper. We see this becoming the next move for retailers world wide to create an immersive experience. While elegance and efficiency are cornerstones of our design, affordability is the philosophy of our business model.
Want to know everything going on in flavor & fragrance? Sign up for P&F+'s newsletter. You can also follow along on Instagram and LinkedIn.