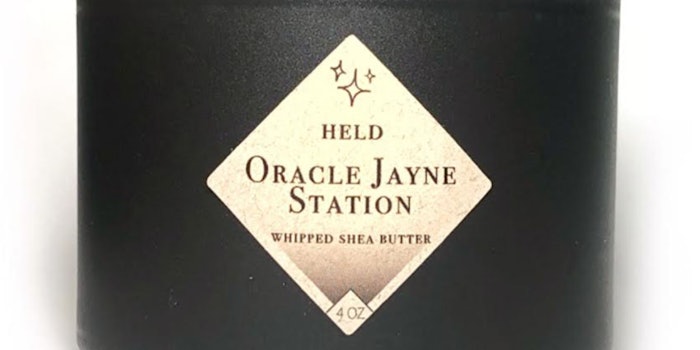 Oracle Jayne Station reveals new Held & Howl collection of organic, luxury fragrances and body care, including two eau de parfums, hand and body bar soap, shea butter as well as two scrubs. 
Held & Howl collection founder Emmy winning makeup artist Andrew Sotomayor, designed the fragrances to be gender neutral.
Held: Includes gourmand notes, made with cocoa absolut and Manuka honey. 
Howl: Smoky scent, composed of black pepper and black spruce. 
Howl is suitable for oily/congested skin, athletes and heavy sweaters, while Held is suitable for dry skin.
Both perfumes are made with organic and wild harvested essential oils and contain no synthetic chemicals. Designed to be worn solo or layered.. (50ml / $105 - 100ml / $150)
Howl Hand & Body Bar is formulated with sea salt, charcoal, espresso, organic coconut and olive oils. Designed for oily or congested skin. (4 oz, $18)
Held Whipped Shea Butter moisturizes with a slightly sweet scent. All Oracle Jayne Station shea butters are unrefined, organic and fair trade. (4 oz, $38)
The selection of body scrubs come in both scents, and are made with black Hawaiian style sea salt and organic charcoal. (8.5 oz, $28)
All items from the collection are made from scratch with organic, wild sourced and Fair-Trade certified ingredients.