Whilst Haiti still retains its status as the site of the world's highest quality vetiver, its social and economic infrastructure never managed to fully recover from multiple decades of occupation, dictatorship and political chaos on top of extreme environmental disasters. One progressive vetiver distiller, Carl DeJoie, has a vision to transform the image of Haiti's agricultural scene on a world stage poised to fully embrace the next stage of eco-tourism. This article sketches his vision, based on a research trip undertaken in 2018 to Les Cayes, one of the principal vetiver production areas in Haiti.
The Market
As reported by Transparency Market Research through Digital Journal, the global vetiver oil market is anticipated to grow with a CAGR of 1.50% to 2024 in terms of quantity purchased, even though its revenue growth rate on that quantity for the same time period is forecast to decline 1.10% (most likely due to price fluctuation in the face of fiscal and climate uncertainty)a. The same report values the vetiver market at $29.7 million by the end of 2024, coming down from $32.4 million in 2016b. Givaudan catalogues that more than 50% of the world's vetiver supply (all from Vetiveria zizanioides) comes from Haiti, being "more balanced and multi-faceted" than varieties from Indonesia or India, whilst a TechnoServe survey estimates that anywhere from 15,000-60,000 farmers rely on vetiver roots as their primary source of incomec.
Even though vetiver remains steadily popular in fine fragrance composition, even more so with the rise of niche and its proclivity towards base notes, it is not surprising that fluctuation is expected in the years to come given Haiti's incredibly unlucky run of naturals disasters, political instability and lack of ecological awareness. In an article for the Huffington Post, drawing attention to Haiti's ongoing humanitarian crisis amidst the aftermath of the country's 2010 earthquake and resultant cholera epidemic, journalist Jesselyn Cook notes that 58.6% of the population were living in poverty in 2014, whilst 2.5 million Haitians are still in need of aidd. On-going effects from annual hurricanes and corrupt governments have created cumulative hardship for the population body, which results in wide-spread deforestation as over 90% of Haitians are reliant on biomass (primarily wood-based charcoal) for cooking fuel, cutting up to 12 million trees annually for the purposee.
Don't Stop Reading!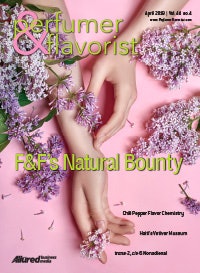 This isn't the full article. To read on, make sure to click over to the digital edition for the full article and other great insight.