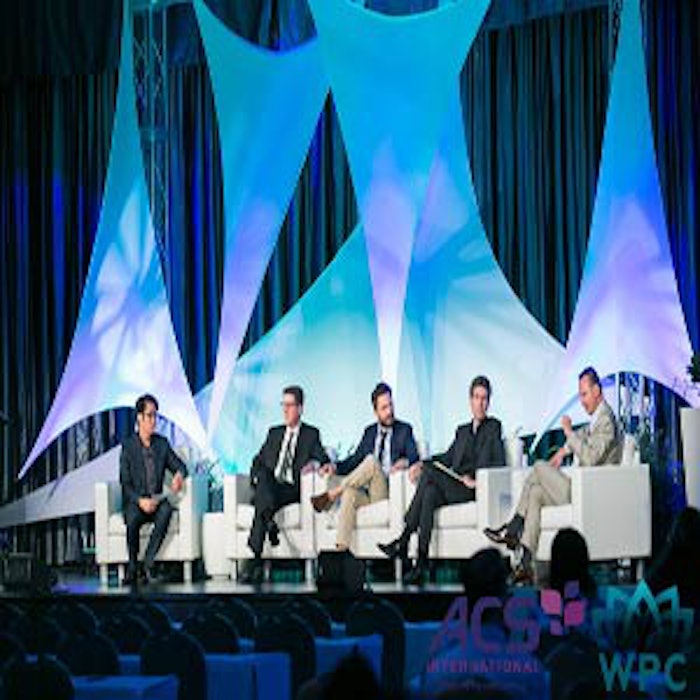 "Consumers are demanding green fragrances, and to create green fragrances, you need green ingredients," said Tony Phan, during the Designing and Assessing Green Fragrance workshop held on day day of the 2016 World Perfumery Congress.
The process & project engineer at MANE kicked off the two-part discussion by sharing insights on green chemistry and MANE's Green Motion steps.
Green Chemistry: Room for Advancement
"What makes an ingredient green: natural products, biological synthesis or raw materials?" questioned Phan. "And then, what makes one greener than another?" No method exists to clearly prove that a fragrance is sustainable. However, green chemistry, as a philosophy, provides useful guidelines to design safer products for health and environment.
Phan reviewed the 12 principles of green chemistry, which includes such points as using safe solvents as well as preventing and reducing waste. Although this is a good starting point, there is room for a tool to provide continual improvement on designing green fragrances.
Green Motion Steps
Developed by MANE, the Green Motion steps are quantitative, based on theory, easy-to-use, relevant and applicable to all types of products, according to Phan. "It takes the 12 principles of green chemistry and adds in seven fundamental concepts, and each gets a criteria," he added.
With Green Motion steps, each ingredient is ranked 1-100, and penalty points are subtracted from the score. Ingredients that score 50 and beyond are considered green. "It has already been used to assess more than 1,000 MANE ingredients in order to build a green database," said Phan. "Most scored 60-65, but it's our goal that by 2021, 80% of our ingredients score better than 50."
He added: "Green Motion steps defines a way to always improve ourselves."
Afterward, Phan invited panelists to discuss green fragrances. The panel included:
Kip Cleverly, head of global sustainability, International Flavors & Fragrances Inc.
Patrick Foley, chief science officer, P2 Science
Cyril Gallardo, vice president—ingredients Europe, the Middle East and Africa, MANE
Torsten Kulke, senior vice president global innovation and regulatory fragrances and oral care, scent and care division, Symrise AG
What Is Green?
When asked to define what is a green fragrance, Torsten Kulke said, "It depends on the philosophy of the customer." Kip Cleverly agreed that the definition resides on the end user.
"A green fragrance is one that is always evolving, a true work of art," added Patrick Foley.  
Who Is Responsible in the End?
Cyril Gallardo shared that "we're all responsible…F&F industry, suppliers and customers." However, it's the industry working together with specific tools that can truly drive change.
Kulke warned that while looking at current tools is a step in the right direction, the industry must also look at social awareness and factor that into defining a process.
Communicating to Consumers
The panelists agree that transparency…or sharing with consumers what's in ingredients and where they came from…is critical. "There's a need to find a way to develop and really convey a way to be more open with the consumer," said Foley. "The more ways we can be proud and open, the more ways we will be heard by the consumers."
However, there's also a necessity of communicating properly. Gallardo said, "There has to be a balance between promoting transparency while still protecting confidentiality."
Overall, creating green fragrance is a continual improvement. "Instead of our current viewpoint of doing less bad," said Cleverly, "we need to view it as creating more good. How is fragrance going to help the world?"