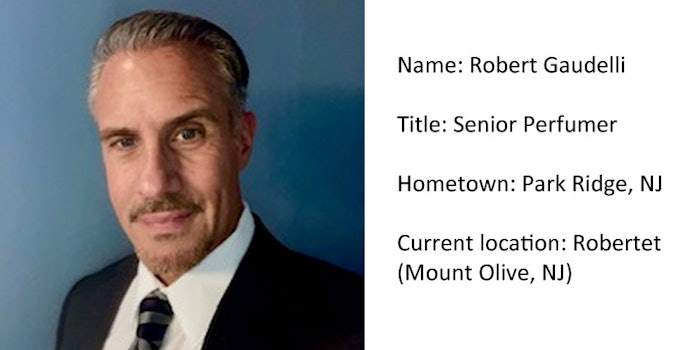 Perfumer & Flavorist+: What led you to the fragrance industry?
Robert Gaudelli [RG]: I am a second-generation perfumer. It was during my college years that my father secured me a summer position in the applications lab where he was vice president of perfumery at the time (Creations Aromatiques). He created the original Nautica Classic for Men there in 1992. While I never envisioned myself following in his footsteps, I have to say that he never pushed or pressured me into it. He may have presented me with the opportunity and the inspiration, but the passion was all mine.
P&F+: What applications do you primarily formulate for? Do you have a favorite?
RG: I work primarily in household and personal care. I consider myself a universal perfumer, working across all product categories. Everything from hair care, air care, laundry, industrial and institutional, natural fragrances, bleach and acid-stable cleaners. I have to say that I enjoy working in so many different categories, as the variety keeps things both challenging and interesting.
P&F+: How has the job of perfumer/flavorist changed during your career?
RG: Because of the ever-changing regulatory landscape, it has never been more challenging for the perfumer than it is today. Many materials that have been part of the fragrance palette for decades have been greatly restricted and, in some cases, taken away completely. The modern-day perfumer must be more resilient and creative than ever.
P&F+: Are the types of projects you're working on changing over time? How are the creative demands of the job evolving?
RG: Over the years, customer demands have shifted towards more eco-friendly fragrances. The demand for all-natural and "green" creations is increasing. While this limits the perfumer to the materials they can use, it opens new creative possibilities and new exciting ways to meet market demands.
P&F+: What is the best part of your job?
RG: The opportunity to work in an industry with so many incredibly talented people and the daily challenge of creating something that produces memories, ideas, emotions and responses in people.